A Balancing Act
Both Cam High's girls tennis and girls wrestling teams found a way to manage demand of both sports and schoolwork: competing at high levels in athletics while maintaining their grades.
Both of the teams were named 2017 CIF Southern Section Academic Champions. They were honored on Tuesday, Apr. 25 at 6:45 P.M. at Angel Stadium in Anaheim with a championship banner during the ceremony. Immediately following the ceremony, the Angels played the Oakland A's.
CIF Southern Section is divided into two categories, based on the number of students enrolled in the school: one category for larger schools with 1500 students or more, and one category for smaller schools with less than 1500 students enrolled. Cam High is in the larger schools category.
Out of all the girls tennis teams in their division, the girl's tennis team had the highest unweighted grade point average in the CIF Southern Section. The girl's wrestling team each had the highest unweighted grade point average of all the girl's wrestling teams in the CIF Southern Section in their respective division. Girl's tennis had an grade point average of 3.91 while girl's wrestling had a grade point average of 3.58.
The varsity girls tennis line-up consists of seniors Danielle Kalcic, Tatiana Anderson, and Michelle Liu; juniors Savannah Hunnicutt, Brittany Lavenant, and Rachel Wang; sophomores Jaime Wu, Kayli Govil, and Taryn Liu; and freshmen Molly Honnef and Zoe Lebrilla. Wang, Govil, Lebrilla and Taryn are students at Rancho Campana High School, but play for Cam High because Rancho Campana does not currently have any sports teams. This was the team's first time winning the award.
During the season, the tennis team won the Coastal Canyon League Championship after going undefeated in league play. Kalcic won the singles championship title at the Coastal Canyon League tournament while Anderson and Govil won the doubles title. Their season ended while competing in the CIF-SS Division I playoffs.
Girls tennis coach Ms. Claudia Grafenstein said that she is proud of the accomplishments of the team this past season. "They won league and they did very well, so this [award] is an extra triumph. They were able to keep up their studies and keep up with the team. I'm just impressed by their abilities to be so successful as student-athletes," she said. "The game of tennis requires you to be really mentally tough, and you have to be able to have strategy and that type of thing when you're playing the game, so usually the game of tennis brings in smart people, people who want to achieve things. I wasn't surprised how smart they were, but I was surprised that overall, we beat everyone out in Southern California."
Some other academic champion teams from Cam High include girls cross country, who won in 2015, and boys swim, who won in 2016.
Like the tennis team, the girl's wrestling team won the award as well. The girls' wrestling team consists of seniors Ellie Han, Karleigh Cundiff, and Hannah Hartley; junior Yazmin Gonzales; and sophomores Gaby Jose, Lilly Stenzel, and Emily Ruiz.
The wrestling team competed in the CIF Individual Tournament and had all the wrestlers qualify for the CIF Masters Tournament. Gonzales and Hartley qualified for the state championships at the meet.
Head wrestling coach Mr. Ron Wilson was not surprised after finding the girl's wrestling team was named the 2017 Southern Section Academic Champions. "The girls work hard. I was not surprised after finding they won the award. This is the first time any wrestling team [at Cam High] has won this award, girls or boys."
Each ticket was discounted to only $8 for friends and family members of the athletes to attend the Angels' game and watch the awards ceremony.
Liu, one of her class' valedictorians, said that managing to succeed in both athletics and academics takes a great deal of prioritizing. "Juggling both school and sports really comes down to time-management and prioritizing what's really important to you," she said. "I always make sure to squeeze in homework whenever I can, so if there's a long-distance tournament, I'll do stuff during the car ride."
Wu said that she enjoyed seeing her team be recognized for their hard work. "The ceremony where we got the award and ribbon was a really cool experience, to be recognized for all our hard work," she said.
Leave a Comment
About the Writer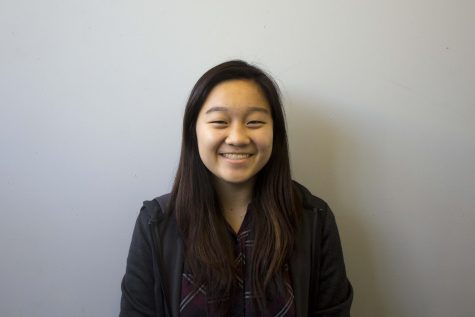 Iris Shim, Staff Writer
Hello!

My name is Iris Shim, and I'm a first year writer on the Stinger staff! I love KIWIN'S and ice cream. I hope you all enjoy the site!