A Review of Braxton's Kitchen
Braxton's Kitchen is a dog friendly brunch spot in Camarillo located in the Carmen Plaza that opens at 8 a.m. and closes around 2 p.m.
The first thing my fellow staff writer Dillon Farwell and I noticed when we arrived at the restaurant on Saturday was the bustling atmosphere that resulted in a lengthy wait time. Since the hours are so limited, the restaurant can get a little backed up around lunch, which causes a line.
When we walked in there were tables lined along the walls with the counter in the back corner. The walls were decorated with artwork of dogs (a theme of the restaurant) and a water station where customers served themselves. We liked that the counter was low, which allowed customers to see the open kitchen. We sat at the low sitting bar right in front of the kitchen so we could see all the happenings.
We waited for about 15 minutes to get a table, then walked up to the counter to order our food. I ordered the Roxy Chicken and Waffles ($13) with freshly made watermelon juice ($5). Dillon ordered the California Angus Beef Burger ($12).
The Chicken and Waffles came with homemade gravy that was absolutely delicious. The dish was drizzled in honey and garnished with a sunny side up egg on top. The egg looked great, but I dislike eggs so I did not taste it. Though, the waffles were extremely fluffy and the chicken was cooked to perfection. I cleaned the plate, except for the egg — because, as I mentioned before, eggs are nasty.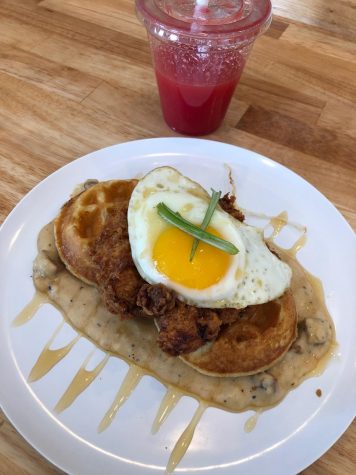 Dillon thought his burger was "The Bomb.com." He ordered it plain but ended up forgetting bacon. When he went back to order a side of bacon, the staff was really understanding, patient, and professional. The food did not take long; however, the fries he got with his burger took longer than expected, so the waitress was kind enough to give him extra. The fries were served with a topping of Parmesan cheese. They were very crispy on the outside, fluffy on the inside, which is just how every fry should be.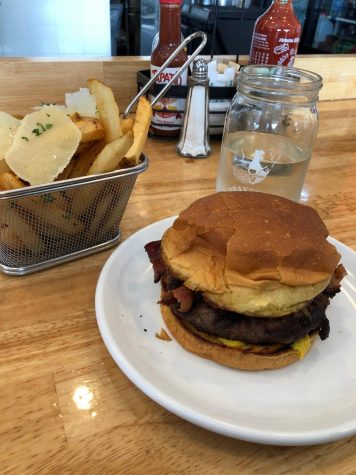 The restaurant offers both keto and vegan friendly options. Additionally, customers can bring their dog and order them a meal. It's called Braxton and Friends Special, a pup focused dish consisting of ground beef, brown rice, butternut squash, green peas, carrots and kidney beans. There are even small turf squares by the outside seating for dogs to do their business.
The staff was very nice and treated the customers with love. It was clean and the dogs that were there were adorable. We recommend dropping by and checking this place out.
Overall, we would give the restaurant a 4.8/5 (the .2 deduction was for the wait).