Striking Out the Competition
As the spring season inches closer and closer to the end, teams are beginning to make a run for the playoffs. Cam High's varsity baseball team is hoping to finish the season strong to get a chance in postseason play.
The Scorpions helped their chance for the postseason by throttling the Oak Park Eagles with a 12-2 victory on Wednesday, April 25.
"Our team hopes to make the playoffs and make a run in the CIF tournament.  We've had a good season and responded well to some adversity and bad breaks, but I think we are about to play our best baseball moving forward," said head coach Mr. John Gonzalez. "Finishing strong will involve playing good defense, throwing strikes on the mound and having good, timely hitting."
Cam High held Oak Park to one hit in the top of the first inning and kept the Eagles scoreless. Junior Gabe Baldovino started the fireworks for Cam High with a double, followed by fellow junior Andrew Lucas hitting a single. Senior Jared Gray hit a second double to bring both runners in, giving Cam High the early lead. The Scorpions scored once again after a pitch missed the catcher's glove and went past him. The first inning ended a 3-0 lead for Cam High.
Cam High's defense held the Eagles scoreless again in the second inning. With the bases loaded, Gray hit a three-run double to give Cam High a 6-0 lead. The team did not stop there, as they ballooned their lead up to 11-0 as the second inning ended. At this point, Cam High had 11 runs on 11 hits.
Again, Oak Park could not get any runs and was still shut out at the top of the third. Cam High added one extra run and they headed into the fourth with now a 12-0 lead.
Oak Park scored in the fourth by driving in back-to-back runs, soon stopped by Cam High as the Scorpions looked to answer back with their own runs. With runners at the corners, Cam High was unable to capitalize and stranded both runners as the inning ended.
Defense took over for the rest of the game as neither team scored in the final three innings as the game cam to an end.
"We had a very good game today. The team hit very well and scored runs early which was important for taking control of the game," said Gonzalez.
"Last time we played them we struggled on defense, and offensively we failed to take advantage of their mistakes. Today we did a great job adjusting and simplifying our offensive approach, so that gave us the best chance to succeed today," said senior Jp Martinez. 
The Scorpions will try to keep their postseason hopes alive when they play Royal on Wednesday, May 3 at home after beating Oak Park and Culver City over the weekend.
"We just want to finish the season out strong and give ourselves the best chance to not only make it to the playoffs but to also make it far and possibly give ourselves a spot in the CIF championship game," said Martinez. "We just have to keep coming out every day and treat each game like it is a playoff game. We have come so far from last year and it's time to start eliminating teams from our league. We should play every game like it's our last if we want to be successful and just enjoy it every step of the way."
Leave a Comment
About the Writer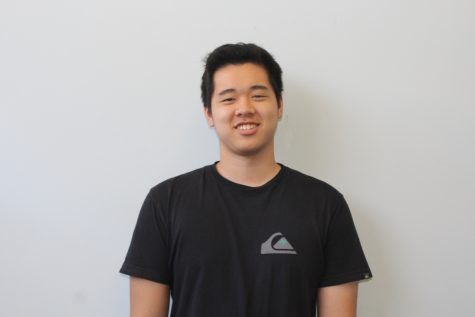 Tony Thai, Sports Editor
Hello. My name is Tony Thai. I am a senior here at Cam High and this is my second year writing for the Stinger. On most days, I like to run away from my...