Mr. Morale and The Big Steppers- Kendrick Lamar Album Review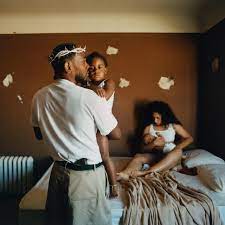 Kendrick Lamar. Kdot. Kung fu Kenny. The prolific rapper hadn't dropped an album in five years. While many assumed he had retired from making full albums, Kendrick wasn't done yet. Earlier this year Kendrick Lamar announced his new album, Mr. Morale and The Big Steppers, Wich later turned out to be a double album. Let's get into it.
Disk One
Track one- United in Grief 8.5/10
What a way to come back. The song starts with Kendrick admitting his problems and triumphantly announcing his return, before transitioning into a unique beat with quicker lyrics. The beat continues overlaying hard-hitting orchestra samples.
Track two- N95 7/10
Ok, The nostalgia and shock has worn off, we can appreciate this song for what it is. The song itself is solid. the trap beats and change of style and tempo keeps you interested and the bass is aggressive and gives the song an excellent atmosphere.
Track three- Worldwide Steppers- 7.5/10
Kodak Black on a Kendrick song? unexpected. The deep methodical beat is more in character, and the subject matter of the song is excellently presented, despite being too mature for us to discuss in this article.
Track four- Die Hard- 8.5/10
The song was definitely written as the softer more audience friendly song on the album. the song feels more like a made for radio pop hit then a Kendrick song at times. Despite this, The song is excellent, and the out of character feel is the only real knock on the song. away from the album the song makes much more sense and will more then likely trend well
Track five- Father Time-  9.5/10
One of the best songs on the album. Kendrick raps emotionally about his relationship with his father, as well as the environment in his hometown. The beat is well made, and the lyrics and flow fit it well.
Track six- Rich- NA/10
It's an interlude, not much to say. It makes the album sound good and cohesive altogether.
Track seven- Rich Spirit- 7/10
Another soft song, similar to Die Hard, but much more in character. The flow is light and it's a very relaxing song. Not much to say about it besides that. The song feels like the average soft Kendrick song.
Track eight- We Cry Together- 9.5/10
The opening of the song is very fitting. "This is what the world sounds like." An artistic masterpiece by Kendrick. How is it that you make an enticing song about a couple arguing. The argument does not sound manipulated to the beat at all, helped in part by the cynical, angry sounding beat the song is over. Taylour Paige performed excellent in this song as well, especially in her first song.
Track nine- Purple Hearts- 9/10
Another excellent song to follow up We Cry Together, Purple Hearts is another emotionally charged song, with a slower more calm beat. The presence of the song keeps the album very balanced and is a great way to close the album out.
Disk Two
Track one- Count Me Out- 8/10
An excellent way to start the second disk of the double album, Count Me Out is just as much of a return song as United in Grief was, the song ensures people will not "count him out."
Track two- Crown- 7.5/10
The song is slow and methodical, suspenseful almost. The classical piano in the background contributes greatly. Kendrick also proclaims "I can't please everybody." Words that some people need to live by.
Track three- Silent Hill- 8/10
On first listen, this song was completely forgettable. It seemed extremely mediocre, and on my first listen I probably would've given it a 6/10 maybe. On the second listen the song was excellent, and surprisingly, Kodak Black more than held his own on a song with Kendrick.
Track four- Savior (interlude)- NA/10
Another interlude. It's vital if you're listening to the album as a whole, but it's certainly not on anyone's playlist.
Track five- Savior- 7/10
What do you mean Kendrick isn't my savior!? I almost gave the song a lower score because of that. All jokes aside, the song is beyond solid, and there isn't much to complain about.
Track six- Auntie Diaries- 8/10
An excellent way to tackle a difficult issue. While sometimes Kendrick's lyrics are vague, these ones are unmissable. The lyrics tell the stories of his aunt and cousin, both of which who are transgender. The song tells the story of how other people perceived it as well as how Kendrick's relationships changed. The song ends with Kendrick's disdain for the F-slur.
Track seven- Mr. Morale- 8/10
The futuristic beat and excellent flow of this song keep the disk as strong as it started. Tanna Leon's feature was excellent as well.
Track eight- Mother I Sober- 9/10
One of the saddest and most emotional songs Kendrick has ever written. The song speaks about Kendricks's trauma and relationship with his mom, as well as false accusations that one of his family members sexually assaulted him. Kendrick goes on to sing about his struggles with drugs, as well as his mother's admission that she was sexually assaulted in Chicago. The many other emotional themes that come up in this song make it one of the album's best. The song would be scored higher if it wasn't almost seven minutes long.
Track nine- Mirror- 7.5/10
The song itself is excellent but unremarkable. The song definitely has an appeal, but it was a bit of an odd way to end the album, especially when Mother I Sober was the song before, and everything about it implied that it would be the last song on the album. Just strange placement of the song. I blame the Label, but pgLang was founded by Kendrick himself.
OVERALL: 8.8/10