Bouncing Back and Jumping Forward
[slideshow_deploy id='63143′]
Update: The team's season ended on Tuesday, Mar. 14 as they lost to Serra High School 51-57 in the CIF State Division III Semifinals.
In a game of inches, a battle between first and second, Rosary Academy narrowly beat out Cam High by just a single point.
The Lady Scorpions lost in overtime with a score of 51-52 at the CIF (California Interscholastic Federation) Division 2AA Southern Section Championship game against the Rosary Academy Royals on Saturday, Mar. 4 at the Felix Event Center in Azusa, Calif.
"I had yet to get nervous playing a game so far this year, but in all honesty, the championship game was the first game I got some butterflies for because it was the one game we had set as our goal for the past four years," said senior Bryne Kirksey. "But I had to just focus on playing the game and tune out the crowd."
Cam High started the game off hot, at one point leading 9-1. As the quarter went on, Rosary slowly chipped into the lead and by the end of the first quarter, Cam High only held a two point lead as the score was 14-12.
The game went back in forth in the second quarter as Cam High out-rebounded Rosary Academy several times. However, the extra aggression lead to fouls on the Scorpions. Cam High held a two point lead with seconds left, but a foul was called late on Cam High. The Royals were only able to convert one free-throw and the second quarter ended with Cam High up 26-25.
Coming out of halftime, Rosary quickly took the lead and went on a 8-0 run. Cam High scored their first basket in the second half, with four minutes left in the third quarter. After scoring their first basket, Cam High went on a run of their own to keep the game close. The quarter ended with Cam High down 36-37.
After Rosary scored first to start the fourth quarter, Kirksey answered back with a three-pointer to tie the game at 39-39. As the quarter went on, the Royals began to hold onto a small lead. Finally, with 10 seconds left, Cam High junior Sierra Richey hit a long two-point shot to tie up the game with just seconds left in regulation. Rosary Academy failed to break the tie and the game went into overtime.
At the start of overtime, Rosary held a two point lead for a couple of minutes, until Richey tied the game with only two minutes left in overtime. After that, Rosary hit a three right away and the Rosary fans erupted into cheers. With one minute left, the Lady Scorpions were down 49-50. Rosary made a layup that was also called for a foul on Cam High, but the Royal player missed the free-throw. With seconds left, Cam High needed a three to keep the game going.
Freshman Alyssa Marin was then fouled on a three-point attempt, and had a chance to tie the game. Marin hit the first two free-throws, but missed the last one. Senior Cameran Bahnsen grabbed the rebound but missed the shot that would have given them the lead. Cam High had one more chance with a shot from half-court as the time expired, but did not get the shot off in time, and the Rosary Academy players flocked to the court to celebrate their win.
"I think our defense was pretty good and we had some good offensive looks. Our press struggled, and driving to the inside was difficult with their tall athletic post guarding the middle. Also, a lot of shots looked good just didn't bounce in," said Kirksey. "I think this loss was a big eye opener for my team. It forces us to stay humble and work as hard as we can to redeem ourselves."
During the 4th quarter, Kirksey injured her knee but came back for overtime. However, she re-injured her knee and was taken out of for the rest of the game. With her injury, she will be unable to play the rest of the season. "We had a team dinner and just talked together and one major focus coming back has been 'not everyone gets a second chance', this hit all the girls pretty hard because our team mate, Bryne Kirksey, tore her ACL in the Rosary game so she doesn't get a second chance," said senior forward Faith Chavez. "We know [Kirksey] would do anything to be on the court with us, so we can't take it for granted."
Even with the loss, Cam High's season is not over just yet. They still qualified for the CIF State playoffs and went on to beat Golden Valley 51-38 in the first round. They later played Mater Dei Catholic High School in the second round on Saturday, Mar. 11 at home, pulling through with a win of 59-45. Cam High will face off against Serra High School on Tuesday, Mar. 14 at home in the semi-final game.
"To make it to state after losing CIF would be incredible. The funny thing is that I think all season we hyped up CIF so much and focused in on it as our goals because we were familiar with it. We hadn't focused much on state, but as we have been playing and state gets closer and we realize we do have a chance. It's kind of insane and just super exciting for all of us," said Chavez. "I think we would have been satisfied if we won CIF, but now we are coming out [hard] every game. We are not satisfied and we know we can go all the way and get a championship."
"I think we have a super good chance at winning state. We're ranked number two and Rosary is ranked one, the same as we were ranked in the CIF playoffs," Kirksey said. "We're all hoping that we get to play Rosary again in the championship against them. If we win state, it's a bigger title than CIF and would partially fulfill the devastating loss we had on Saturday."
"I am playing each game like it's my last and trying to have no regrets when I come off the floor," said Chavez. "We realized as a team that if we were gonna have any chance at a come back, that we had to stop dwelling on the loss and put all our heart and soul into the next practices and upcoming games."
Leave a Comment
About the Writer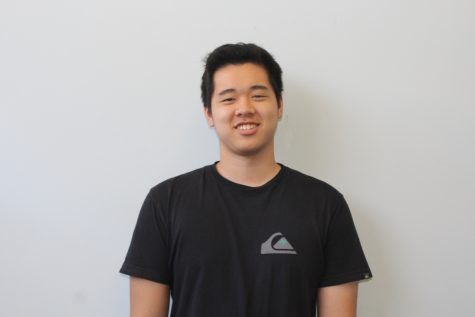 Tony Thai, Sports Editor
Hello. My name is Tony Thai. I am a senior here at Cam High and this is my second year writing for the Stinger. On most days, I like to run away from my...