Scorps Spotlight 38: Song and Pom Captains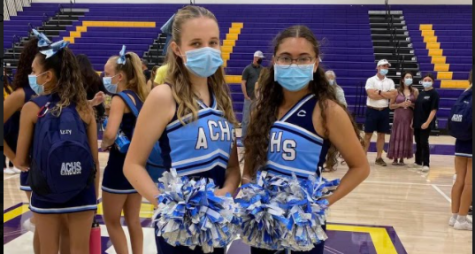 Cam High's Song Team is a dance team made of varsity dancers who cheer alongside the cheerleaders during both football and basketball games. The difference between each program is that Song does not use building techniques such as stunting. They solely dance and cheer, staying on the ground as their team captains lead them on.
Song has been part of Cam High for seven years, and is still going strong as the year goes on. During the spring season, Song also becomes a competitive team against other schools. Song is led by Coach Robin Perry with assistant Coach Isis Woodruff, along with it's captains, Leslie Orlando and Haliey Reed.
Leslie Orlando is a Senior at Cam High, and the captain of the Camarillo Song and Pom team. Orlando has done dance since she was 3 years old at her studio, Cappa, and has been on Song all 4 years of her high school experience. She was introduced to the Song team by a friend who did dance with her, and was even able to see them perform at her middle school when she was in 8th grade.
She thought joining song was a great opportunity to dance in a way she hadn't before. Orlando was inspired to be a part of leadership for the Song team, because she saw it was a "chance to be an even bigger part of the team, and a way to help others." Orlando mentioned that she really realized she enjoyed Song was "Once the team started to bond and not only become a better team, but become a family." Orlando describes her role in leadership as "eye opening and rewarding."
Hailey Reed is a Junior at Cam High, and the Camarillo Song and Pom team Co-Captain. Reed has done dance since she was 4 years old, and has been a part of a song for 3 years. She joined Song thinking it would be a fun opportunity to make new memories and new friends.
Reed's big experience that made her realize Song was something she enjoyed being a part of was in her freshman year, and her first time at camp. While at camp, the team really comes together and starts to learn new things about each other and create closer friendships. She explained how she "loved the bond and family feeling I got from being a part of the team." Reed says that she enjoys the role of leadership because of "how rewarding it is to see my team succeed and grow throughout the season."
If you would like to dance or cheer for your fellow Scorpions and make new memories in high school, think about joining the Song team next year! Contact Coach Robin at [email protected] and let her know you're interested in joining!