Cam High STUNT Team 2021-2022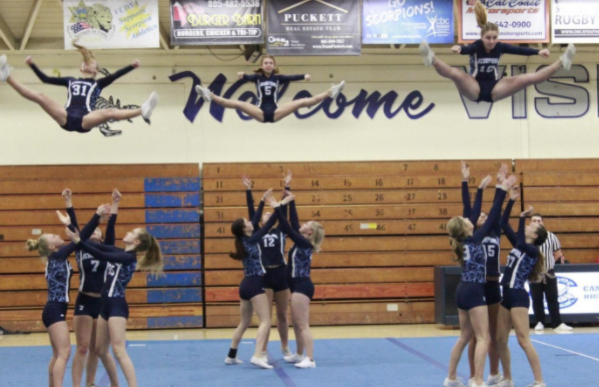 The Cam High STUNT team is back for the 2021-2022 season after being cut short during their 2019-2020 season, due to COVID-19. STUNT is an emerging sport that was adopted by high schools and colleges in 2014. Cam High formed their very own team for the first time in spring of  2017.
Seen in sideline cheer and all star cheerleading, stunting is defined as "building performances displaying a person's skill or dexterity." In STUNT, two teams from different schools compete on the same mat and preform the stunts in front of a panel of judges. The team with the highest score from the judges gets the point. STUNT does not only consist of stunts. It includes tumbling and jumps as well.
STUNT is a different and newer sport. STUNT can be a co-ed sport as well, Coach Shepard explained that, " It was introduced as a sport to assist in title IV sports for gender equality in sports." Much like competitive and all star cheerleading, STUNT requires strength, agility, flexibility, coordination, and many more athletic attributes. Games work a little differently than most sports. Head Coach Shepard, who has coached the team since day one, explained how a stunt game works: "The games are divided into four quarters. Quarter one is partner stunts. Four rounds are played, coaches alternate possession based on winning round. Quarter two is pyramids and tosses where another four rounds are played. Quarter three round has jumps and tumbling with four rounds played. And then quarter four is a compilation of rounds one thru three with all components in one round. Three compilation rounds are played."
Most people meld STUNT and sideline cheerleading together, leading to confusion. However, the two are completely different. Coach Shepard explained it like this, "Cheer is a sideline team that supports teams such as football and basketball. STUNT is its own sport which combines the athleticism and complexity of gymnastics and stunting into a head to head game with 18 routines varying in complexity that teams play versus other opponents to officials to score points on mastery and cleanliness of skill set."
Amanda Ellis, three year stunt player and senior at Cam High, enjoys the particular STUNT community within Cam High: "My favorite aspect of STUNT is the connection I have with the team. You create much stronger bonds than you would on the Cheer Team and it is a really positive environment for you to learn new skills! "
This year Tryouts took place November 15th through the 17th. Roster results were announced Thursday, November 17th. This year, the team of around 30 girls will begin training this winter. Tournaments will begin this spring. Dates for tournaments are still to be announced.  As of right now tournaments, and preseason games are still being plugged into the schedule. Coach Shepard explained the high expectations of the team, stating, "In our first year we went undefeated in league and regionals and went to state playoffs. Year two and three we were once again undefeated in league but we're defeated in round two regional division playoffs."
Coaches and players are anticipating a great season this year. Despite missing last years season, Coach Shepard says, "We are looking forward to great things from this year's new team."