All together now
Scorpions rallied together to celebrate homecoming weekend and the royal court last Friday.
As customary for all school functions, the Cam High marching band opened up the rally with the Star Spangled Banner, followed by the homecoming court being introduced with a Mardi Gras themed "float," a golf cart decorated in Mardi Gras colors. Andrew Medina stood in for Jake Martin, junior prince, who was unable to make it due to injuries resulting from a pool accident last month.
Martin prepared a video to be played during the rally to thank students for the nomination. "Me and my family have appreciated all the love and support you have given us," said Martin. "Thank you so much."
ASB held a competition involving Mardi Gras centered trivia and a scavenger hunt for the homecoming royalty. The freshman prince and princess were eliminated in the first round of trivia, followed by the junior prince and princess in the next.
A short performance from the cheer team was held before the games resumed with a scavenger hunt. Jalee Brown and Stephen Medina won the competition after a crowd-member threw a single Converse shoe, the last item the remaining competitors needed to find.
After a clip from Disney's "The Princess and the Frog" was played, seniors Matt Yoshimoto and Jalee Brown were announced as the king and queen of the 2014-2015 homecoming dance.
"It's really nice," said Brown. "I feel very blessed to win."
Brown also won junior class princess last year and said that she was excited to win again her senior year. "I feel very honored," she said. "I didn't think I had friends."
Yoshimoto was also shocked by his win. "I'm really happy that I won, and I didn't expect to at all," said Yoshimoto. "I'm looking forward to a good time with all my friends at our last homecoming."
Many students said they enjoyed the rally. "I love how everyone is just so excited about their class and is trying to compete with everyone else," said Melissa Wasylewski, sophomore, "[Especially] when the Mardi Gras cart came in and the homecoming court followed them."
The rally concluded with the band playing the Alma Mater.
Leave a Comment
About the Contributor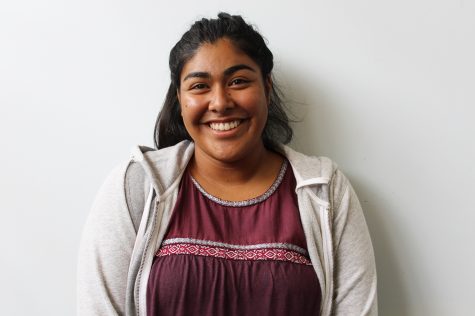 Serena Sotelo, Retired Photographer (2015-2016)
Hi I'm Serena! I'm a senior, 17 years old! I love all types of writing but I'm mainly into creative writing... that's why I take photographs for the Stinger(;...