The next Instagram?
Something old is becoming something new. Misha Leybovich, the CEO of a new app called "Trio," created a unique app that has very different intentions compared to other popular social media apps.
Trio allows people to remix other people's social media along with any GIFs, iTunes, etc. Leybovich, with the aid of an eclectic team of programmers including an MIT rocket scientist, professional boy band member, Berkeley student body president, undercover gang documentarian, Georgia Tech art-and-tech star, and Guinness Book of World Records finalist, launched the app on Wednesday, March 4. "It lets you take other people's media and turn it into video," said Leybovich.
While other apps, such as Vine or Instagram, provide people with a slideshow of videos and photos, Trio provides users with a new capability of self-expression and produces a different form of creativity, according to Leybovich.
This is not the first time Leybovich has created a product dealing with mash-ups. Having traveled to over 70 countries, he has a long history of putting seemingly disparate ideas together. Previously, he had two other products; however, they ended up being too complicated or being in the wrong market; nevertheless, they were "okay", as Leybovich said. However, those previous two apps have helped him realize the power of remixing. "Trio is just a really natural evolution from these products," said Leybovich.
Trio, launched only a few weeks ago, is currently only on the IOS App Store but, it will be on Google Play sometime later this year. In the few weeks it has been active however, most of the feedback the company has gotten is positive. Leybovich said, "The number of downloads has reached satisfying numbers."
The app has received relatively few negative comments and Leybovich said there are a number of benefits to using Trio. "The problem with other popular social media apps is people need to pretend like they are doing something all the time and try to look awesome. It is kind of exhausting," said Leybovich. "The thing with Trio, however, is not everything on the app is supposed to be funny. Some posts can be meaningful, expressive, and commentary. It provides different forms of expression," he said.
The app is intended for people to make mash-ups that make them happy. Leybovich seeks to gain an audience through the demographic that wants to show "how clever [they are]."
The app, started in Silicon Valley, has been an international hit from the beginning and people worldwide are using it.
"What we do is put the world of popular media at your fingertips," said Leybovich.
Leave a Comment
About the Contributor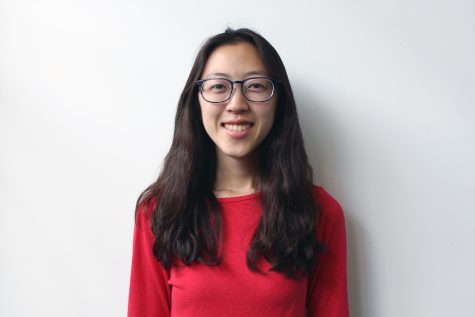 Sophia Cheong, Retired Features Editor (2015-2017)
Hi! I'm Sophia but many like to call me, "Sofa." Sadly, this is my final year at Cam High, which means my last year on the Cam High Stinger.  It is weird...