Cam High says Goodbye to Buddhu
Mr. Kevin Buddhu, English teacher at Cam High, plans to relocate to Spain through the School Year Abroad (SYA) Program with his new bride, where they will live in the slower-paced city of Zaragoza.
In 2004 and 2005, Buddhu took a sabbatical leave and taught at the Thatcher School in Ojai, a feeder school for the SYA program. "When I was there teaching, I found out about the program and so three years later, from there, I applied and went to Spain and taught at the school," he said.
Though Buddhu enjoyed his time teaching abroad it soon came to an end. "My wife at the time and my children wanted to come home. But originally my plan was to take my family abroad and to acculturate them, have them integrate into the society, learn a language, and be global citizens, if you will. But we came back, that was 10 years ago," Buddhu said.
Since his return, Buddhu has been teaching English at Cam High, though in recent years has been hoping to find a fresh start. "I've been looking for a couple years for other kinds of teaching work, mostly overseas because I've traveled a bit and I like that challenge," he said. "[SYA] had some openings and I went through the application process which is a lot like the college application process, you have to send in letters of recommendation, transcripts, writing samples, do interviews. And then they said they were going to hire me."
Buddhu will teach in Spain for a year, and then he has to decide whether or not to come back. "Because they're only going to cut me loose for a year, I can come back the year after next and start working at Camarillo High School again, but that is not my intent," he said. "My intent is to go, and travel and live. Have my children come and visit, they're both in college, and just live a simpler life. It's a simpler life."
According to Buddhu two past students he had taught in Spain wrote letters of recommendation to the director, helping him earn a spot on the staff. "I'm a public school teacher; [public schools] don't send anybody to School Year Abroad. Usually small private schools send people, so all the teachers from those schools get to teach there because it's a perk," he said. "So I kind of edged them out. I had experienced it before, I had good recommendations, and it helped out. Politically its very hard to pick a teacher who's not from one off their feeder schools. So I got very lucky."
Buddhu will be teaching English to mainly juniors and a few seniors on the SYA Spain campus. "They're all American kids, from all over the country, they are all pretty grade motivated. I will probably teach what is essentially a modified AP class," he said.
Without gearing the students towards the AP exam, Buddhu hopes to read challenging books, teach various kinds of writing, and develop the students to be overall critical thinkers.
Though Buddhu is essentially able to write the curriculum for his class, he explained that the SYA program wants a unified curriculum for all 4 campuses. "The school wants a Capstone program. On the first day my students are going to write a Cultural Inventory, which is how and why they see the world the way they do. Then at the end of the year they're going to write another one. And during the year itself, part of what I base my curriculum on is self reflection, evaluation, choices we make, why do we make them, and what are the consequences, because life is about making choices all the time," said Buddhu.
In addition to the self-reflecting style of his curriculum, Buddhu hopes to read some more works by Miguel de Cervantes, the biggest novelist in Spain, and dedicate time to free-writing. "Last time I was there, we read like 7 or 8 novels in the 9 months, so we'll probably do that once again. Also I want to do a lot of free writing, 3 times a week for the first 5 minutes of class just writing without interruption," he said.
Teaching English is not the only responsibility Buddhu is taking on, he will also serve as an adviser for about 10 or 12 students. "I am their connection to their parents. So I stay in contact with their parents, I introduce myself to their parents beforehand. If the kids have any problems with their host families or with their teachers, they come to me. So I'm like a counselor. So my job, I think, is to offer them a place to just feel comfortable and at home," he said. "My home is going to be like a little sanctuary for the kids to come once a month and eat dinner and speak English and play games and things like that. They need a landing pad of some kind to feel comfortable, they just need a little touch of home every once in a while."
In Spain, Buddhu hopes to find simplicity. "It's cultural, it's beautiful, it's close to all the other countries in Europe. So for my partner Gail and I, we're looking to slow down and live a simpler life, enjoy what culture has to offer. I won't have a car, the school provides me with a home to live in, I'm going to walk to work, it's just a lot simpler," he said.
One aspect of the SYA Program Buddhu particularly admires is the extensive cultural immersion the students and faculty are able to experience. "It's 9 months of Spanish immersion, incredible. Most kids come away fluent and they have that language for  the rest of their lives. Plus they get to travel all over, at 17 they can travel all over the country. It's an incredible opportunity," he said.
Students in the program are expected to speak primarily Spanish throughout their entire trip, to ensure they will master the language. According to Buddhu, even their textbooks for all of the classes are in Spanish and they're college textbooks.
"All of the faculty with the exception of the English and the math teacher, are Spanish nationals. The faculty just doesn't talk to the students in English—even though they're fluent in English also, they just refuse to talk to them in English. The city itself doesn't have a lot of tourists come so it was rare to hear English spoken at all really. They are pretty much completely immersed, which adds to the authenticity of the experience," said Buddhu.
Not only does Buddhu desire simplicity and cultural immersion, he also hopes to work with a smaller group of students in a smaller setting. Classes in the SYA program have a maximum of 15 students, serving as another reason why Buddhu is excited for the opportunity. "I want to have a smaller number of students to work with. I want to get closer to them and know them on a different level because there's so much distance here that's either artificial or intentional, and when I taught at the Thatcher school at SYA before, I came to really like and appreciate my students more, that's why I'm in this gig," he said.
"I think there are some parts about institutional education that are deeply flawed. By design, for me, our school is too big. Our classes are too large, there aren't enough choices for students, we don't have enough rigor, we do not work well with the individual student as much as we can, by virtue of having 175 coming through the door, the rigid structure that we have in place. And I can say that because I've worked at five different schools, two of them being small and three of them were big, and I know the difference," said Buddhu. "I just think that there's a better way to do this and sadly it costs money […] So I'm 58, I'm not going to be doing this for much longer so I might as well do it in Spain," Buddhu said.
Buddhu admires the relationships the teachers at SYA share with the faculty and students, "I highly respect the faculty, they are the most highly educated, committed group of educators I've ever met. They're just very tight. And they know why they're there," he said.
Though Buddhu has never lived in Spain, he is not nervous about the move because he has visited many times. "I calculated that I have cycled through Spain 4 times. So I've been in the country aggregate maybe 3 1/2 months on a bike, at different times of my life. First time was the summer of '85. So I like the country. I like the culture. I'm ready," he said.
"My regrets about leaving the school are some of the friends that I've made here. And my students are really good. I don't think you could ask for better. They're so motivated and opened minded, it's been so fun suggesting to my AP students that there's more than one way to do things. The last 3 or 4 years have been really fun and I'm going to miss that.  But it's okay," he said.
Senior Aira Courselle, a student in Buddhu's English 4AP class said, "I'm actually very excited and happy for him.  He seems very ecstatic about the move and really looking forward to it, so I think it's a really great thing for him. I do, however, think that the future students are missing out on having him as a teacher. His teaching style is very open ended. [His] class itself is very hands on and I think it makes it really fun."
"As much as I wish that I could visit Mr. Buddhu next year, I am thrilled to see him pursue his passion. His move inspires many students, including me. Mr. Buddhu will be missed, but I cannot wait to see where his new journey of life will take him," Brandon Fujii, another senior in Buddhu's English 4AP class said.
"I'm kind of sad that he'll be moving away because we won't be able too come visit him once we graduate, like so many students do. Also, my little brother won't get to experience his class or the was he prepares you for college," senior Melissa Wasylewski said. "His teaching style is more than just regurgitating thesis statements or preparing you for an AP test. His class never has busy work, because everything you work on builds on top of each other and helps lay a foundation for the next assignment. He cares a lot about freedom and creativity. I don't read books the same way anymore, because he's taught us to see beyond the text and the words that are on the page, and to see the issues the author really wants us to focus on. He will be missed."
As a going away present for Buddhu, his AP Literature students contributed money towards a gift. Buddhu's student and senior, Tyler Tsuji, designed and created a custom surfboard for Buddhu as a thank you from all his classes. The class presented the board to him in period 5 on Tuesday, Jun. 13.
"There's no way I'm not going and there's no way I'm not going to make it stick. It's worth it," said Buddhu.
View Comments (2)
About the Writer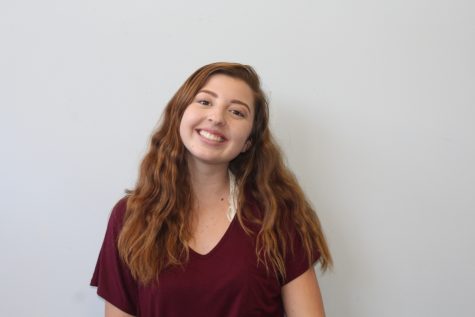 Alyssa Viviano, Staff Writer
Hi everyone! My name is Alyssa, I'm 16 and this is my first year writing for the Stinger. I have always enjoyed writing and I am looking forward to sharing...