Fighting for Freedom
From selling corsages for homecoming to food after school, the Liberty in North Korea (LiNK) club works together to aid North Korean refugees who are not born with the same fundamental rights as the average American.
LiNK is a non-profit organization that works to raise money to help North Korean refugees escape their country and establish a new life in the freedom of the United States or South Korea. According to the LiNK website, it costs $3,000 to rescue one refugee and help them integrate into society and start a new life. The money goes towards providing transportation, food, clothing, shelter, resettlement assistance, and empowerment programs.
The club was founded  in 2015 by seniors Hannah Kwon and Uyen Mai*, current co-presidents, along with Annabel Kim, current vice president, and Katie Cha, member. After Kwon, Kim, and Cha all attended a presentation by one of the representatives from the LiNK organization at Westlake Korean Community Church, they were inspired to start a club on campus.
"[The representatives] talked about the LiNK organization, and their message just stuck with me, so me and a couple of friends decided to start the club at our school to raise awareness for a cause that I'm not sure a lot of people were aware about," said Kwon.
Mr. Daniel Cook, band director, currently is their advisor and the club consists of about 30 members.
Kim expressed worry that the students at Cam High may confuse LiNK as an anti-communist political club. "We want to emphasize that LiNK is a humanitarian club, not a political club, because we're about helping people that are suffering and not about fighting communism. We're working to give people a chance at freedom and an education and just basic rights that every human deserves," she said.
"I like how the club works to liberate the people that have't witnessed even freedom before, and they haven't experienced anything near what we take for granted in America. LiNK constantly shares stories that have been affected through our efforts," said junior Monica Lin.
Throughout their two years, LiNK sold corsages and boutonnieres for Homecoming, hosted a movie night, held a Christmas party, and sold boba from Wild Cherry and  pizza from Little Caesar's after school, raising a little over $1400 in the last two years. "Our corsages and boutonnieres fundraiser is our biggest [fundraiser] every year. We've had mainly social fundraisers because that's what our club members like going to the most and it's a good way to involve the rest of the members and not have just the board plan everything," said Mai.
Sophomore Sarah Lee joined because she wanted to raise awareness for North Korean refugees. "I feel like they don't have enough voice in this world. We've made a lot of progress with our fundraisers, and then our board members are really working hard to make this club a real sizable club," said Lee.
"Being in LiNK is a lot of fun. The fundraisers are fun to set up. The people in LiNK encouraged me to join, and overall, the cause is so worth joining because we're raising money for [refugees] that can't get away otherwise" said member Kreg Hubbard, senior.
The club meets every Thursday during lunch in the band room to educate members about the LiNK organization in order to spread awareness and plan future fundraisers.
"Each week, we'll maybe have a feature on a different person who's a refugee, and they tell their story, and we show videos about those types of situations to the club members. And we keep members updated on current news about the LiNK headquarters and how refugee rescue situation is coming along and what the refugees have to go through in order to escape and what we have to do in order to help them escape." said Mai.
*Mai is also a staff writer for the Stinger.
View Comments(1)
About the Contributor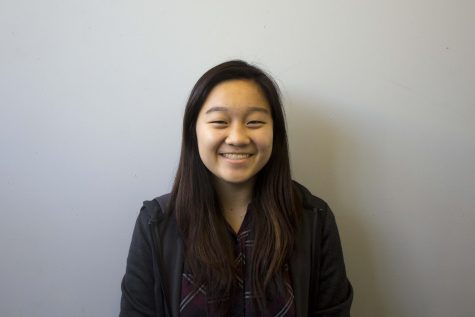 Iris Shim, Staff Writer
Hello!

My name is Iris Shim, and I'm a first year writer on the Stinger staff! I love KIWIN'S and ice cream. I hope you all enjoy the site!