Scorpion Showcase Welcomes Incoming Freshmen
[slideshow_deploy id='62776′]
Cam High's annual Scorpion Showcase took place on Monday, Feb. 27, organized by assistant principal Ms. Adriana Pulido, Cam High's counselors, and ASB advisor Ms. Lori Pristera, along with ASB students. This year's Scorpion Showcase not only served as an open house for Cam High parents, but also as a recruitment night for eighth graders and their parents.  
This year was the first year that Cam High combined Open House and the eighth grade recruitment night. "[The idea] was first proposed by the District Office. We have some new people there with different ideas from the previous schools they were at," said Mr. Tommy Taketa, counselor. "[They proposed to have] tours for all the freshmen, like a tour day, and thought it would be a good idea and would like to see it happen, so that's what [Dr. Kim Stephenson, principal] went ahead and did."
According to Pristera, the event was a massive team effort. "[The counselors] went ahead and got the eighth grade information to the incoming freshmen parents. Myself and Ms. Pulido planned the whole evening," she said. "The ASB kids, who were amazing, went ahead and gave directions, passed out programs, the cabinet led the performances and introduced the performances, and then helped everyone around in the  evening, and showed everyone around."
The Scorpion Showcase kicked off with a rally in the gym beginning at 5:45 P.M. with performances by the school's cheer, dance, and song teams. The rally concluded with a collaboration between the English department and symphonic band. 
The symphonic band played a 12 minute piece called "A Movement for Rosa," composed by Mark Camphouse, as a tribute to Black History Month while a recording of Ms. Lauri Markson's English 3 AP students reading poetry about the fight for racial equality played on a projector. "The music was absolutely stunning, and from what I could hear of some of the excerpts that the students were recorded, I thought that they were very moving," said Markson. "My wish would have been that we could have heard all of them the same way I heard them in my classroom."
Despite the high expectations for this collaboration, some thought that the performance could have gone better.
"I think that when the video came on with the English kids reciting their poems and whatnot, it was really loud, and we weren't able to hear ourselves while we were playing […] but other than that, I think it went well," said junior Emily Rutherford, first chair clarinet player of Cam High's symphonic band. "The solos went well, and I think the intonation was better than when we first started practicing."
After the rally, parents of current students at Cam High had the chance to talk to teachers in order to get to know them better, as well as talk about their student's progress. Simultaneously, incoming students of Cam High and their parents were given the opportunity to talk to teachers and learn about the different classes and activities available on campus.
Several clubs and organizations such as Naturally Green and Save the Children were also given tables in the hallway to show their club to students and parents, while the Class of 2018 also held a silent auction in the hallway. Robek's and Shake Ramen's food trucks sold food at the event.
Several teachers had various labs and demonstrations for the event. Mr. Scott Martin, physiology teacher, had students dissect owl pellets in front of attending parents, as his students conducted the lab earlier in the semester while studying the skeletal system. "I thought it would be a great opportunity to have the students showcase what they've done in this class by dissecting owl pellet, explaining some of the bones that are found in an owl pellet, and comparing some of the bones that are found in our own bodies [for all the parents]," said Martin.
Pristera said that this year's idea of having future Cam High students attend the event will likely be carried into future years. "I would [combine eighth grade recruitment night and open house] again because I think it's important for incoming freshmen parents to see how wonderful we are [as a campus] and what we have to offer," she said. "Students have a choice now of where they can go to high school, and we want them to come to [Cam High]."
View Comments (1)
About the Writer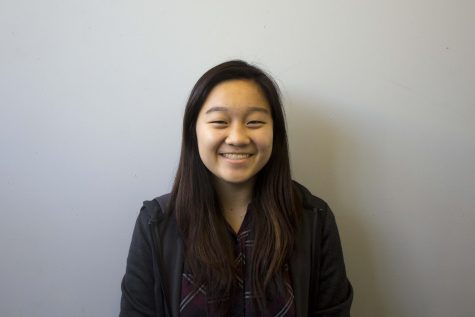 Iris Shim, Staff Writer
Hello!

My name is Iris Shim, and I'm a first year writer on the Stinger staff! I love KIWIN'S and ice cream. I hope you all enjoy the site!