Profiting from Prose: Ariana Espinosa wins essay contest
Cam High sophomore Ariana Espinosa recently won the Conejo Valley Chapter's Christopher Columbus essay contest, and will now compete at the district level of the competition.
Daughters of the American Revolution (DAR) sponsored the competition and asked participants to write in the perspective of one of Christopher Columbus' crew members. The essay topic was, according to their website, to "Imagine you have been chosen to join Christopher Columbus' crew as he sets out for the New World. What are your thoughts and feelings as you prepare for this potentially hazardous mission? What skills do you possess that are essential to your success and survival? Why do you want to go on this voyage and what do you hope to gain from this experience?"
According to Espinosa, Mrs. Tawney Safran, her AP European History teacher, is the one who got her to think about joining. "My teacher, Mrs. Safran, recommended it to all her classes. I decided to join because I like writing," said Espinosa.
"There's so many opportunities for growth, scholarships, developing concepts, and opportunities to showcase learning," said Safran. "We're working so much on primary sources and analytic skills, so I thought it would be interesting to bring in your own approach toward a person that most people know about, but really they don't know truly about and make it a kind of creative twist with it. I thought it would be awesome if my students had at least an opportunity to go for it."
The deadline for the essay, which was required to be 800-1200 words long, was Oct. 13, Christopher Columbus Day, but Espinosa wrote it two days before the due date. "I wrote about how he doesn't know if he wants to stay or go back home, and about how he was feeling during the journey," said Espinsoa. "I had trouble staying with the amount of words that they allowed. I sort of found it a bit hard, and I had to search up about Christopher Columbus to make sure I had my facts straight."
The essays were judged on the writer's ability to apply historical accuracy, adherence to topic, organization of material, interest, originality, spelling, grammar, punctuation, and  neatness. Because Espinosa's essay was selected as winner of the Chapter level, her essay will be forwarded to the state American History chair for the state competition. The best selected essays will progress to the division, then national levels, respectively.
If Espinosa makes it  to the national level and wins, she will be invited to attend Continental Congress to be recognized and  receive $1,200 from the NIAF (National Italian American Foundation), in addition to paid lodging and transportation to Washington D.C. She will also get the opportunity to read the prize winning essay to a crowd of people at the Columbus Memorial in Washington D.C., on Columbus Day. "If I had to write another essay, then I would feel very pressurized under stress," said Espinosa. "I would be happy if I won, but I'm not dying for it."
Safran was both surprised and not surprised that Espinosa won the title. "It's not a surprise because of her diligent nature, her work ethic, and her passion. [It was a surprise] because I don't get to hear her much in class," she said. "She's a quiet, reflective type as evinced by her very creative and awesome writing."
Espinosa will be recognized for her achievement at an awards ceremony in Thousand Oaks on February 4, 2015.
Leave a Comment
About the Contributor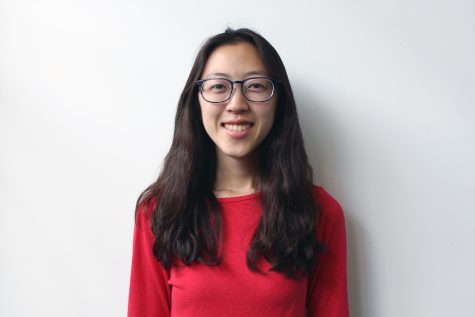 Sophia Cheong, Retired Features Editor (2015-2017)
Hi! I'm Sophia but many like to call me, "Sofa." Sadly, this is my final year at Cam High, which means my last year on the Cam High Stinger.  It is weird...