Nicole Joseph, more than a "match"
An avid surfer, rock climber, and slackliner, sporty is an understatement when describing seventeen-year-old Nicole Joseph, junior.
Already an active athlete, she surprised her friends and family by joining wrestling last year and making it all the way to State Championships, placing eighth.
"[Wrestling] is an aggressive and daunting sport, and what you put in is what you get out. But you know how much worth all the work you put in was at the end of a match when the referee holds up your hand and you know you have won", said Joseph. "You become overwhelmed with a sense of victory and self-accomplishment."
A Florida native, Joseph lived in Maryland for most of her life and moved to California during her freshman year.  "I struggled a little [sophomore] year, trying to balance out school and wrestling since it was my first year doing it, and it consumes so much time, but I'm back on my feet now," said Joseph.
Joseph joined wrestling her sophomore year, with no experience beforehand.  "I don't really know what made me want to join, just a gut feeling I guess. I've always wanted to try and thought I would enjoy one-on-one contact sports."
Though Joseph thought wrestling was difficult and struggled at first, she said that she enjoyed it nonetheless. "I love the challenge. You can always improve because there is always going to be a move that you haven't discovered or some little trick to make a move even more perfect."
According to Joseph, Mr. Ronald Wilson, head wrestling coach and health teacher at Cam High, had doubted her abilities to perform well in the sport. "I remember when I first asked Mr. Wilson if I could join. I think I was wearing a dress that day and was all girlied up, so I didn't look very intimidating. He looked me up and down, and kind of chuckled a bit. I knew he didn't think I could do it, and he asked me if I was sure I wanted to try it. I was, and now I wanted to prove him wrong."
A few months later, Joseph progressed past the 121-pound weight class for CIF (California Interscholastic Federation), Masters, and State Championships, ending two places away from Nationals. Although she placed eighth in the state, Joseph is hoping to place first this year. "It's a bit of a jump, but when you truly want something, you can make it happen," she said.
There are currently only six or seven girls on the wrestling team who are not out for injuries this season. As a result of low female enrollment, there is currently no official girls wrestling team at Cam High.
In order to make it into CIF last year, Joseph had to also compete against boys and says she became very close with everyone in the wrestling room, considering them as a second family. "Even if you don't know a person very well, you have something in common with them," she said. "That binds you together, if nothing else."
Leave a Comment
About the Writer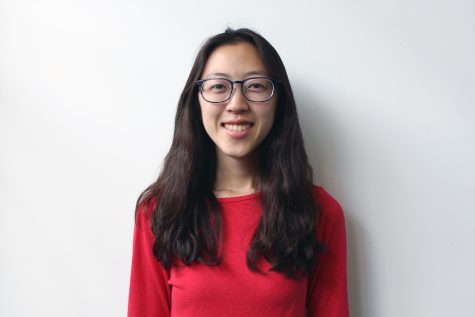 Sophia Cheong, Retired Features Editor (2015-2017)
Hi! I'm Sophia but many like to call me, "Sofa." Sadly, this is my final year at Cam High, which means my last year on the Cam High Stinger.  It is weird...