Ms. Pulido
Mrs. Adriana Pulido, assistant principal at Cam High, is passionate about helping high school students in this transitional time of their lives.
Born and raised in Oxnard, California, Pulido graduated from Channel Islands High School and then attended UC Berkeley with a major in social welfare, specializing in psychology, and a minor in Spanish language and literature.
During the summer after college, Pulido worked with the Upward Bound Program at Cal Lutheran University as the head resident adviser where she was in charge of the dorms.
Pulido explained that this five-week residential program allows high school students to spend the summer at Cal Lutheran University, take classes on campus, live in the dorms, and experience college life. "We would take care of them, making sure they went to class, were doing their homework, slept, ate, and followed the rules," she said.
She then worked for two years as the program director at a nonprofit organization called Future Leaders of America. "I did a lot of programming centered around getting kids to learn about college and going to college and becoming leaders in their communities," said Pulido.
Pulido attended graduate school at University of Southern California where she received a masters degree as well as a people personnel services credential in school counseling. She then worked as a school counselor for eight years at Animo Venice Charter High School in Venice.
But after years of living in the Los Angeles area and going back to school at Cal Lutheran for her administration credential, Pulido and her husband wanted to move back near Oxnard, her hometown, in order to start a family and build a home. "It was fun to live in L.A. There [were] a lot of things going on, but we were really looking to just settle down and be in a community that is family focused, family driven, and student centered. And so we both work with students in the community, and now we have our own little baby who will be raised here in the community. I'm living the dream," said Pulido.
"Crazily enough, all in the same summer, we bought a house out here, I left my other job, and I ended up getting the position here [at Cam High] that I had been looking for, since I just finished getting my administration credential," she said. "Now I have a little 9 month old baby, and my husband got a job out here too at Cal State Channel Islands, so things really worked out for us."
Pulido has only worked with high school students. "I feel that high school is such an important part in an individual's life because it's [at] the point right before you become an adult, and it's the time when a lot of really important decisions are made. I like the idea of informing students and parents about the possibilities about after high school, with regards to college and career opportunities, it is really important to me. Their future is right there, it's the next step," she said.
Growing up in Oxnard, surrounded by good people, and having great learning experiences made a big difference in Pulido's life inspired her to further her education after high school. "I feel like it is important for me to serve my community and help kids in the transition into adulthood," Pulido said.
Pulido has now worked at Cam High for three years as an assistant principal. "It's a great job. A lot of responsibility, it comes with its challenges, but overall it's so worth it. It's a great place to work at and know that you are working hard and it means something to people," said Pulido.
View Comments (2)
About the Writer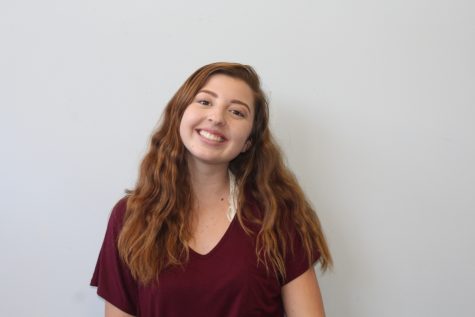 Alyssa Viviano, Staff Writer
Hi everyone! My name is Alyssa, I'm 16 and this is my first year writing for the Stinger. I have always enjoyed writing and I am looking forward to sharing...