Six New Faces at Cam High
This year half-a-dozen teachers joined the Cam High staff. Take a closer look at the new faculty members.
Ms. Adriana Gomez: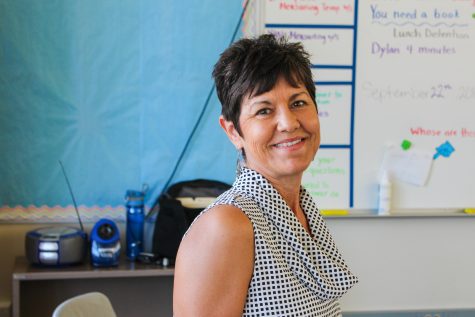 Ms. Adriana Gomez previously worked at Cam High for 5 years, but transferred and taught at both Rancho Campana and Channel Islands last year. She has returned to Cam High this year.
Gomez received her bachelors in dance at UC Irvine, masters in dance therapy at UCLA, and physical education and special education teaching credentials at Cal State Northridge. She later worked in a psychiatric hospital doing dance therapy.  Although Gomez loved this job, she decided to take on something new.
According to Gomez, her career change was inspired by an Los Angeles-based musician. "This trumpet player [Herb Albert], who was amazing, around that time started the Los Angeles Elementary Arts Program, decided to teach kids about the arts. It was amazing," she said. "I [then] decided to take a job teaching in Santa Monica."
After a couple of years, Gomez then decided to teach at Cam High after hearing about the various educational programs it has to offer.
"This year my goal is to spread kindness throughout the halls of Cam High," Gomez said. "My advice to the student body would be to stop and think about how we want to be treated and to treat others with kindness."
Mr. Thomas Ryan: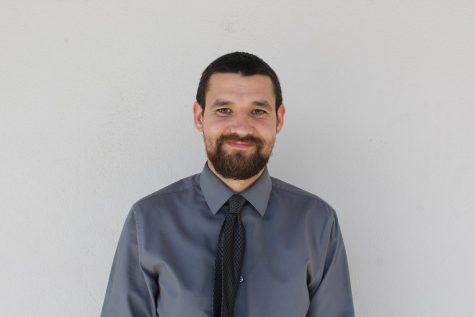 Mr. Thomas Ryan, the newest science teacher at Cam High, was raised in Newbury Park, California and attended Newbury Park High School. "I graduated from Moorpark College in the Exotic Wildlife Program," he said. "I  got to learn hands-on with the animals, stuff like training, birthdays, different events and tours." Ryan then graduated from California State University at Channel Islands as an environmental science major.
His passion for wildlife led him to the Shambala Perserve. "[The preserve is] a sanctuary for exotic felines, where I was able to study mountain lions. [It was] awesome," he said. Ryan spent a couple of years there, but later realized it was time to move on and spread his love of nature to others.
Ryan's love for nature and wildlife has inspired him to teach earth science at Cam High. At first, Ryan was a long term substitute teacher at Cam High for Mrs. Kyla Gupta, but this year he has his own classes. "Cam High is a coherent community, full of great students. One goal I have for this year is definitely to develop as a teacher," he said.
Ryan wants to help his students enjoy their high school experience. "Keep working hard. Understand that high school is a time to figure out what you like and who you are, be open," Ryan said as advice to the Cam High student body.
Mr. Jeff Jackson: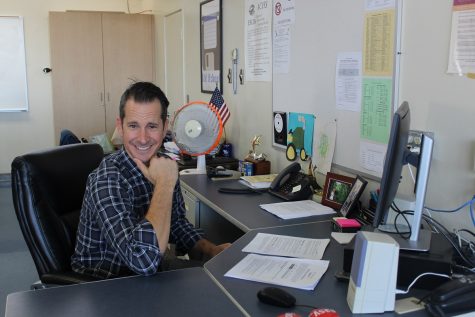 Jackson teaches the new AP computer science course at Cam High and hopes his students pass the exam in May.
"I want to help kids learn real world stuff and have fun," he said.
Jackson grew up in Houston, Texas and went to school in Seattle for two years then attended the Texas A & M beach school, which was the perfect fit for his love for surfing. "I've always wanted to move out to California to surf. It feels like I've been on a 15-year vacation from home," he said. Here, Jackson majored in Management Information Systems. "It's a business degree, but focusing on computers and computer software for companies," he said.
Jackson said that he decided to make the switch to teaching because he wanted a more interactive job. "In my original career [in Texas] in software development, I didn't feel rewarded. I liked the money, but not non-stop work, stress, and cubicle life," he said. " Computer Science was my first choice to teach when I got into teaching, [in California] as I had experience and background knowledge.  I did almost teach math as my first assignment, but a computer job came up at Simi Valley High School, where I ended up spending 10 years before moving over to Cam this year."
"I live right up the hill here; 2.6 miles [to go to school] versus 25 miles. So that's pretty nice," said Jackson in regard to what he likes about Cam High. "Cam High is very similar to Simi. All the students are respectful, and the teachers are helpful. It's been great."
Mr. John Avila: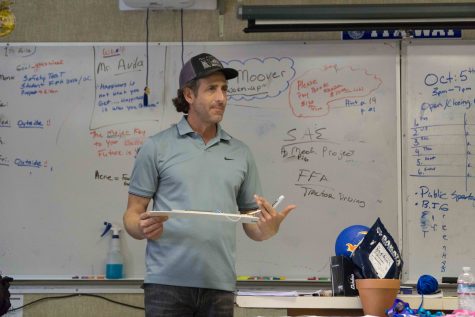 Avila teaches Agricultural Mechanics,  one of the new courses offered this year.
"I'm from a little town called Tipton [in California]. I went to the Community College of Sequoias in Visalia and from there was recruited to go to Cal Poly San Luis Obispo, where I have a master's degree in agriculture and a teaching credential," Avila said. "There [at Cal Poly], I was a master teacher who trained other agricultural teachers. I was the president of the Agricultural Teachers Association from Los Angeles to San Jose."
Growing up, Avila was inspired to become a teacher after he was misdiagnosed to have a learning disability and struggled in school. "A few good teachers helped me out and because of them, I wanted to continue [teaching]," said Avila. "I always looked at teachers as being heroes."
Avila taught at Carpenteria High School for the last 17 years and received the number one Future Farmers of America (FFA) program title, meaning his agriculture program was the most successful in California and stayed true to the FFA motto, 'Learning to Do, Doing to Learn, Earning to Live, Living to Serve'.
After years of working in a small town, teaching at Cam High was a new step for Avila. "I chose Camarillo on purpose. It wasn't by accident. I looked at which school had the highest test scores, had the funds, and had the vision."
As of now, Avila is content with having his own area on the school farm, away from the rest of the school. He encourages the entire student body to get involved with agriculture. "Agriculture is everything. everything we eat, drink, and do is agriculture. That's why it's so amazing." he said.
Ms. Sandy Gonzalez: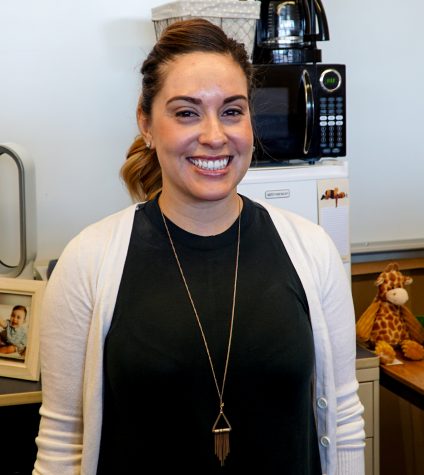 Gonzales co-teaches English 1 this year with Ms. Lucy Nakamoto and Ms. Julie Riedmiller along with two courses of directed studies.
"I'm from Oxnard [California] and I went to Hueneme High School." said Gonzalez. Later she went to Ventura Community college and transferred to CSUCI where she received her teaching credential. Gonzalez then went on to Cal Lutheran and received her master's degree in special education. "After college I worked in a dental office […] and later I was an insurance coordinator." said Gonzalez. "I then realized office work was not for me."
Gonzalez said that she decided to take up teaching because of her love for being around kids and pursuit of a more exciting job.
She then went on to teach at Oxnard Elementary School and Haydoc Academy for 5 years before coming to Cam High this year. "[Cam High] feels like family already. I love it. Everyone is so welcoming and the students have been amazing," she said.
Mr. Peter Wachtel: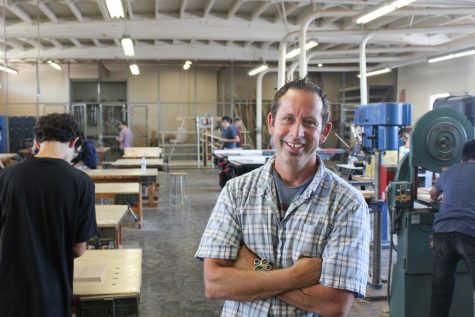 Watchtel, the new Woodshop teacher, is originally from Buffalo, New York, but has lived in New Jersey and Ohio. He took over for Mr. Chip Mills after his retirement last year.
"I went to Sweet Home Senior High School in Amherst, New York. I graduated from the Columbus College of Art & Design in Ohio with a BFA in Industrial Design, from Pratt Institute in Brooklyn, New York with a master's degree in Industrial design," he said.
He has worked for numerous toy and entertainment design companies as a creative director, designer, and inventor. "I invented a three-in-one barbecue tool called the Grill Wrangler that was featured on ABC, CBS, Jay Leno, and other broadcasts," said Watchel.
He initially wanted to design and invent as much as he could, but realized he could instead use his skills to help others achieve their dreams.
Watchel said that Cam High was the right place for him to pursue teaching. "I love [Cam High], since we've moved here in 2005. I have seen the school everyday driving by and kept asking my two kids, 'Should I work there?' I'm sorry I waited so long, this is the best high school in the world!" he said via email.
Wachtel's goal for this school year is to inspire students and to grow as an educator. Wachtel said to the Cam High student body, "Design with your heart and go Scorpions!"
View Comments (1)
About the Contributor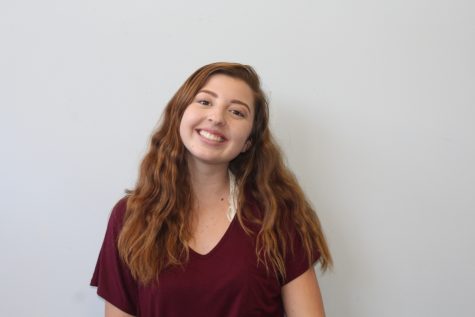 Alyssa Viviano, Staff Writer
Hi everyone! My name is Alyssa, I'm 16 and this is my first year writing for the Stinger. I have always enjoyed writing and I am looking forward to sharing...