New "rival" proves too much for Scorpions
Cam High's varsity football team fell to their new rival Newbury Park in a substantial loss last Friday night, ending with a score of 53-28.
This is the first time Cam High has played against Newbury Park as its rival school, instead of long-time rival Rio Mesa, due to the recent switch from the Pacific Coast League to the Marmonte League.
First quarter was dominated by Newbury Park, with four touchdowns from the Panthers, one from clear across the entire 100-yard length of the field. Cam High ended the quarter with no points and Newbury Park with a 23 point lead.
Newbury Park's Ryan McGee, wide receiver, was the first to score a touchdown during the second quarter, continuing the Panthers' 30 point lead and ending the quarter at 39-0. Similarly to the first quarter, Cam High was unable to gain any points and suffered an injury by one of their players.
Half-time included performances from the Panther cheer squad, dance team, and marching band.
The Scorpions entered back onto the field after halftime, breaking through a large banner that read "Send the Panthers to the Zoo." Within forty-two seconds, strong safety Casey Bash, junior, scored Cam High's first touchdown of the game. Newbury retaliated quickly with another seven point touchdown, putting the score at 46-7.
With three minutes left on the clock, cornerback Cristian Hernandez, Cam High senior, scored the last touchdown of the quarter, bringing the score to 46-14.
"I thought the game went a whole lot better in the second half," said Nico Cuccia, senior. "In the first half, I thought that we just had no idea what we were doing, and it looked really bad watching the team get pummeled over and over again."
As fourth quarter kicked off, Cam High made several attempts to earn another touchdown but only managed to make a few fumbled passes in the end zone. Five minutes into the quarter, the Scorpions were finally able to score a touchdown, advancing the score to 53-21.
With two minutes left on the clock, Cam High wide receiver Daniel Bytheway, senior, scored the last touchdown of the game with a jump catch, finalizing the game at 28-53, a clear victory for the Panthers.
Christopher "Buddy" Prutzman, junior and spirit leader for the Cyclone, felt that the loss could partially be attributed to the lack of energy from the spirit section, "I think we could have prepared better," said Prutzman. "If we had kept the spirit up, we would have done better."
Leave a Comment
About the Contributor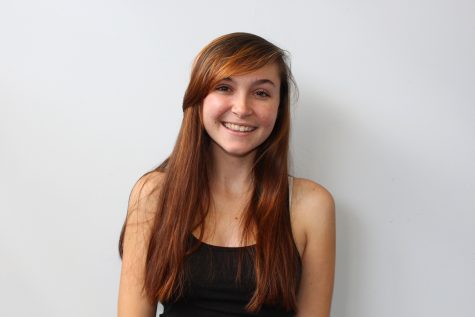 Keira Witham, Sports Editor
Hi I'm Keira Witham, I am a senior at Cam High and this year's Stinger Sports Editor. Writing is my love along with psychology and child development. I...