Finals schedule: something we never questioned
Since most staff members can remember, Cam High's finals week has followed an unconventional schedule.
The week begins with periods five and six on the first day, one and three on the second day, and two and four on the third day. Zero period classes take their finals from 7 to 7:48 A.M. throughout the week, during their usual class time.
The order of finals is structured but nonintuitive, begging the question– why is finals schedule the way it is? To clarify, why doesn't Cam High simply go in order and begin the week with periods one and two on the first day and so forth?
Former Principal Mr. Glenn Lipman said the irregular schedule was intended to help students, though the schedule was put in place prior to his tenure.
"The staff felt that many students, mainly those in grades 11 and 12, had varsity sports and activities periods five and six… so five and six periods together gave students more time to study [for their other classes]," he said.
Faculty members also tried to spread out the distribution of difficult exams. In previous years at Cam High, the few AP classes offered were held during first and second periods. "Periods one and two was connected to the AP and Honors schedule. Separating the finals broke them up a little," said Lipman.
Comparing finals schedules across the district
Every school in the Oxnard Union High School District handles its finals schedules differently. Rio Mesa High School, for instance, follows a block schedule and gives their finals in order. "We have periods one and two on Tuesday, three and four on Wednesday, and five and six on Thursday," said Brian Nguyen, junior at Rio Mesa.
Nguyen likes the way Rio Mesa's finals schedule is currently. "It just follows the structure of a normal school day."
Differing perspectives
Ms. Heidi Resnik, teacher-librarian and former English instructor, prefers the schedule that goes in order.
"For me, I very much wish it were one, two, three, four, five, six. It just made more sense," she said. "Sometimes, I was in a different place in different classrooms and finishing up before finals. Then, all of a sudden, fifth and sixth periods are here at the beginning of the week. We had traditional schedules at other schools where I worked."
"Sometimes tradition trumps, and this sort of analysis of a situation is in need for change," said Resnik. "I did bring the schedule up last year to the administration, and they said they were going to keep it as it is."
However, many students still prefer the schedule Cam High has now. "I think the schedule is fine just where it is. I mean, it's worked in the past, and no one has ever had any problems with it," said Jonathan Chhang, senior.
Chhang's opinion stems from the placement of his calculus class, one of the harder courses he is taking this semester. "I have more time to study for my math final, which will take place on Thursday," he said.
Other students who are not affected by the schedule have no preference. Junior Brandon Fujii said, "Finals are finals and as long as we have only two a day, that allows us to focus on only two subjects rather than three or more."
As of now, there is no talk amongst the administration to amend the finals schedule, but that is not to say that will always be the case. "As always, I discussed with department chairs for changes or updates," said Lipman. "Times change."
Leave a Comment
About the Contributor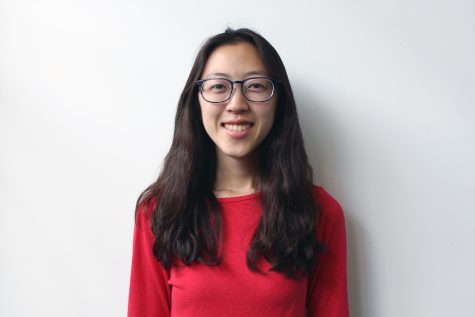 Sophia Cheong, Retired Features Editor (2015-2017)
Hi! I'm Sophia but many like to call me, "Sofa." Sadly, this is my final year at Cam High, which means my last year on the Cam High Stinger.  It is weird...