Rain impacts Camarillo
[slideshow_deploy id='56783′]
Wet and windy storm conditions propelled by an El Niño jet stream brought flooding and debris to Cam High on March 11. Storms also caused damage earlier this year, when several storms moved through Camarillo in January.
The El Niño-Southern Oscillation (ENSO) cycle is an irregular occurrence of climate changes that has been in effect since last March.  As of yet, the serious rain and moisture has avoided Southern California, while parts of Northern and Eastern California have been hit.
ENSO changes occur every two to seven years. According to the National Oceanic and Atmospheric Administration (NOAA),"The ENSO cycle is a scientific term that describes the fluctuations in temperature between the ocean and atmosphere in the east-central Equatorial Pacific, approximately between the International Date Line and 120 degrees West." In Southern California, El Niño can often produce frequent and severe sub-tropical storms.
Several preparations were made at Cam High to prepare for the past rainy winter months that never really materialized. "We have been working with the district facilities, maintenance, and custodial teams to prepare the best we can- repairing roofs, clearing drains and gutters, stocking up on sandbags and planning for areas with known issues," wrote Principal Dr. Kim Stephenson in a community email sent after attending an El Niño workshop in November. Stephenson also acknowledges that seasonal light rain proved helpful in finding out other problematic areas on campus.
Due to flooding in the A-Wing and D-Wing, sandbags had to be used to divert the flow of water, so students could travel safely from class to class. Earlier this week, the D-wing flooded yet again with the small amount of rain that fell last weekend leading into Monday.
During the January storm, French teacher Ms. Martha Garcia said, "There was a river of water outside my classroom. We kept opening the door to determine if the water was going to flood the classroom. Only a little bit of water seeped in, and sandbags were placed in front of the door just in time. One side of the A-building was flooded. Students had only one direction to go in and that was towards main hall."
Science teacher Mrs. Kyla Gupta said, "I heard the A-wing was flooded and they had to bring in sand bags, but my room in N-1 was okay since it is a bit higher up and on a slope. We could use some large, water-absorbing mats so that our floors do not become so slippery with all of the students walking in with wet shoes."
Junior Madison Boulais said that she loves the rain and was very excited about it. Yet, she noticed a hectic and chaotic atmosphere on campus due to the heightened precipitation. Another student Senior Stephanie Sust said that she also enjoyed the rain, but as a result of it there was a lot of traffic in the hallways.
"Although it was great to finally receive some much needed rain, getting so much in such a short amount of time isn't good because the ground can't absorb it all fast enough, so much of it runs-off into the ocean. Flooding and mudslides can result," said Gupta.
Tree branches are also venerable to breaking from high winds, as was the case when one fell and hit senior Magnolia Hallie on Jan. 7. Trees are also more susceptible to falling because the dry roots offer no stability during rainstorms. Tree trimmers have taken several trips to Cam High to inspect the state of the trees, making sure that they are sturdy enough to bear predicted downpour.
Despite the fact that Southern California has experienced an influx of rain, it is still not enough to completely solve the state's four relentless years of drought–nor has it been anywhere close to earlier estimates. The government's weekly drought monitor showed that 67% of the state by area is still undergoing drought conditions.
"El Nino isn't the answer to California's drought problems," said Gupta. "El Nino brings warmer ocean temperatures, slowing the process of upwelling, which decreases the amount of nutrients available for sea life. Most of California gets its water from snow melt in the Sierra Nevada mountains. Because El Nino brings warmer climates, this also doesn't help our drought situation because it prevents that snow from forming in the Sierras which we need so desperately."
Leave a Comment
About the Contributor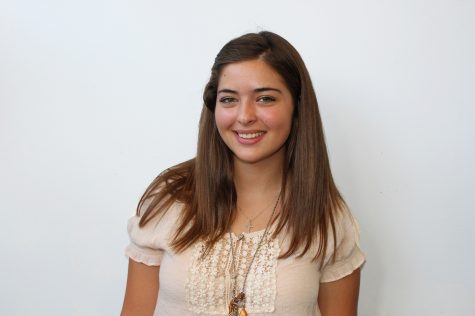 Hailey Fulcomer, Staff Writer
Hallo! I'm Hailey, an eighteen-year-old senior and staff writer for the Stinger this year. As the president of the ACHS German club, I love history and...