Caroling with choir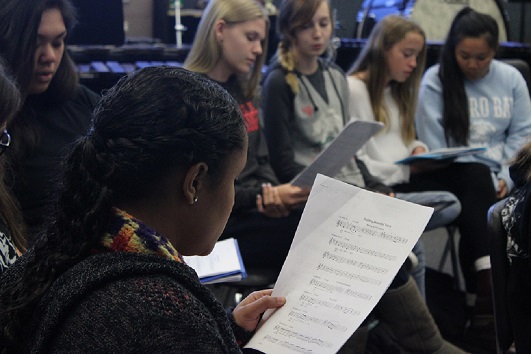 Strange noises can often be heard from F-2, the music room, throughout the week, but perhaps the most zealous harmonies can be discerned on Thursdays, when Cam High's choir holds their weekly in-class karaoke session.
"We get to go up in front of the class and sing any song we want voluntarily," said Samantha Kelly, junior.
Choir is one of the six music-based elective classes offered at Cam High. The class is led by Mr. Daniel Cook, this year's new band director, during fourth period.
A typical choir period begins with warm-ups, followed by song rehearsals.
For music classes like choir, participation and effort in the class plays a big role in grading. The members practice at home, often on their own accord. "We don't get homework very often, but when we do it's usually practicing certain parts in songs, and writing in note names and such," said Natalie Sheehan, junior.
There is no tryout or permission needed to join choir, only a passion for singing. "Anyone can join the class," said Sheehan. "I'd say the best parts of choir are the people and the opportunities to sing, because I love singing."
Cam High's music program plans on holding its annual Christmas concert on Dec. 8. "We're currently working on holiday songs and have been for about a month and a half," said Sheehan. "We kind of go back and forth between songs when we aren't [doing something specific]."
The concert will include performances of holiday music by the choir, concert band, symphonic band, and mariachi. "Everyone in the music program plays or sings for all who chooses to attend," said Sheehan. "There are also food and snacks that usually cost one dollar."
Leave a Comment
About the Writer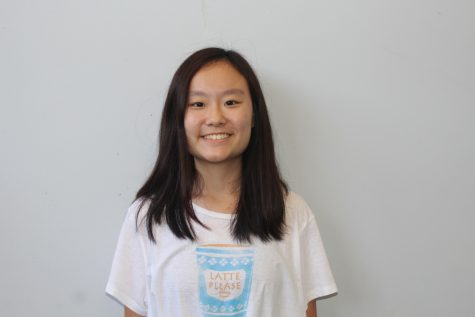 Kristi Chu, News Editor
Hello! My name is Kristi Chu, and I am a senior at Cam High. This is my second year on the Stinger staff, and I'm so happy to be the news editor this year!...