Digitized Identity
Students in the Oxnard Union High School District (OUHSD) experienced a six-week delay in the receiving of their new digitized identification cards, which were originally scheduled to arrive during "Taking Care of Business Week."
In May, all incoming Cam High students had already taken their school pictures with a textured blue background; however, a month later, the district decided to redo all the photos with a white backdrop instead. The time and resources it took to schedule picture redos caused the delay, according to Ms. Lori Pristera, Cam High's ASB advisor.
"Visual [the company hired to take school portraits] sat with the district and told them it would be over 10,000 dollars to change the ID photo background. So the district said […] they would just wait for right now. It waited all summer," said Pristera.
Yearbook also desired all white backgrounds, instead of a mix of white and blue, said Mr. Puneet Sharma, director of the Information Technology Department of OUHSD, providing further cause to the holdup.
Before seniors came to school on the Monday of "Taking Care of Business Week", Cam High contacted Visual Photography and OUHSD about the status of the identification cards. "It was as if our phone call was a wake-up call for them to find our ID cards. So that turned into Visual Photography graciously spending all weekend, printing off temporary senior ID cards on stock card. When I realized what [Visual Photography] was doing, we went ahead and printed our own off, here at school, through Synergy," said Pristera.
Danielle Chen, senior, said the temporary ID cards served their function but with a few drawbacks. "It's the same as the old ID, except it's on paper instead of a plastic card. On the temporary ID, you can't have an All Access Pass stamp on it. You also can't have the early dismissal stamp," she said.
"ASB has lost money, with people not buying All Access Passes because they have no IDs to stamp," said Pristera. "Campus supervisors have to physically stamp a receipt, saying that, yes, it is an All Access Pass receipt. Money had to be spent to pay campus supervisors the extra time it takes in order to do that. And now the bookkeeper has to take time out of their day to get trained to go ahead and do this, too," said Pristera.
After the last picture make-up day on September 23, Visual Photography worked quickly to get the ID cards done. "The goal of our company has always been customers first, so we have been working overtime to ensure that all the students in the district get what they need as soon as possible," a representative from the company wrote in an email statement.
On October 1, the new digitized identification cards were delivered to Cam High. According to Sharma, the new IDs may be scanned to take class attendance and deposit money into individual student accounts. The cards may also be swiped to buy products from the school's vending machines by using a magnetic strip reader on the back.
The district expects the digital ID cards to be more convenient for students. "We are pushing out this app [that creates] the same ID in the digital ID form as well. Some of the students said that they always keep their phones [with them], so they can just pop out [the new digital IDs] on their Android or iOS, " Sharma said. "Those are the directions we are going for: paperless and cashless."
Sharma acknowledged that the new IDs caused complications but felt the district's motivations were justified. "Changes are not perfect. We tried, we had our best intentions, but things got delayed and we apologize for it," he said. "All humans make mistakes. We learn from mistakes, and we do a better job. We try to fix it."
Some have voiced concerns regarding the idea of digitized ID cards. "I think that it will be great if [the cards] makes things easier, but I have some doubts about them. I haven't really seen how this system is going to work yet," said Mrs. Heidi Kuehn, German teacher.
"In theory, it sounds amazing, but in practical application, I say show me, prove it," said Mrs. Donna Maygren, social science teacher. "If it doesn't work, who is going to help us with it? What makes them think it's going to make anything better?"
Teachers appeared especially skeptical of the new attendance-taking system. "I imagine that the teachers will still have to be responsible for knowing who is there and taking attendance, because there is a possibility of a student forgetting or losing their ID cards, so teachers will have to manually enter them, anyway," said Kuehn. "And I can also imagine a situation where a student might have two ID cards because they have one for a friend, and they want to do them a favor by signing them into class because they know their friends are going to be late, or are absent that day, or something. So I am assuming that the teachers are still ultimately going to be responsible for saying who is there and who is not there. And that could be a problem."
View Comments (1)
About the Contributor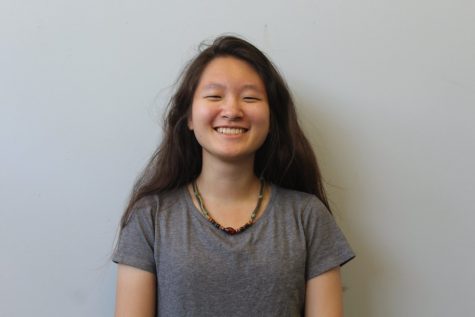 Chun-Tzu Huang, Features Editor
Hello everybody, I am Chun-Tzu Huang,  a senior, and it is my second year on the Stinger staff.  I am a lover of creative writing and a bit of a writing...