Swimming now an option on Fun Run days
It's Friday, cardio day for all physical education classes. Most students complete the Fun Run, an approximately mile-long loop around campus, but a few take another path. Donning swim caps and suits, they head for the pool, choosing to swim continuous laps instead of run.
Ms. Claudia Grafenstein, P.E. teacher, said that she and other administrators wanted people other than members of the swim team and administration to have the opportunity to swim in the pool.
"We have the new pool, but we can't use it as a unit because a lot of kids do not know how to swim. We don't have the equipment yet to provide for people who are unable to swim," said Grafenstein. "Instead, we decided to use the pool as a swim option for cardio days."
In order to use the pool, students must first pass a swimming test, in which they must swim 50 yards (wall-to-wall) in under one minute. After passing the test, students are required to swim 25 minutes to receive cardio credit.
In comparison, the Fun Run begins with a lap around the track, loops around the baseball and soccer fields, cuts through the lower parking lot, and ends with another lap around the track. The run must be completed in 12 minutes or less to receive credit.
Out of Grafenstein's five P.E. periods, 140 students passed the test and were qualified to use the swim option on chosen cardio days.
Zack Krakower, freshman, is one such student. "We go over to the bleachers, take attendance, rinse off and swim for like 25 minutes, count our laps we have at the end, and we tell the teacher," he said. "I like swimming a lot more than running."
Mikayla Burnett, former PE student and senior, said that if she was given the option, she would have chosen to swim. "Swimming cools you off, and from what I have seen, you can swim however you want, freestyling or even kicking boards, just back and forth on the walls."
Many chose to swim for other reasons."[Swimming] is much easier than running for me because I have breathing issues," said sophomore Iris Taomina. "When swimming, you can take a chance to relax between laps."
Still, the Fun Run currently remains the more popular cardio option. Miles Brasted, freshman, chooses to run as a default, since he does not find running difficult.
"Every period is different. We range from one to 25 [students in the swim program] per period, with the higher numbers happening later in the day when it gets warmer," said Grafenstein. "But we still have a few that get in the water when it's chilly first period."
Leave a Comment
About the Contributor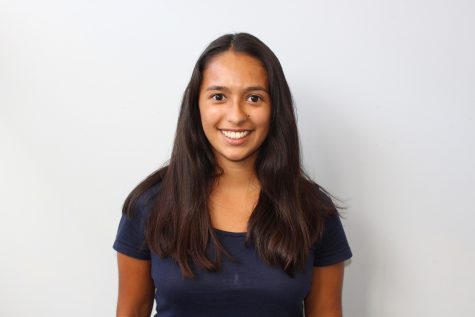 Cristina Farias, Staff Writer
Writing has become an outlet for me. A way to escape and let myself drift off into another world of senses imagery and. I love the outdoors, I especially...