Scorps Spotlight 1: Dr. Kim Stephenson
Editor's note: Scorps Spotlight is a new Stinger project that will showcase a member of Cam High's diverse student body and staff every other week. Our first Scorps Spotlight features Dr. Kim Stephenson, Cam High's very own principal.
After the retirement of Mr. Glenn Lipman last June, the Oxnard Union High School District elected former associate principal Dr. Kim Stephenson to take his position.
Stephenson brought with her a diverse work history, having served as a teacher in several school districts, colleges, and universities, and as an administrator at Cam High for two years. "I have taught every level from preschool to graduate," she said.
In 1993, Stephenson taught her first class at a kindergarten in inner city Oakland. "When I first started teaching, I was very excited," said Stephenson, recalling her insistence on going to school even though she was not feeling well. In one case, the principal of her kindergarten even tried to persuade her to not to come after a health-related incident in her car. "My kids had three [substitute teachers] before me. I want to convince them that I will be there. I don't want them to think that I am leaving them."
The students that Stephenson taught in kindergarten are now all grown up. "These kids are actually adults now, and one of the coolest things is hearing what they are doing as adults," she said.
In addition to being an educator and teacher, Stephenson is also a motivator. "What I love about working with kids is seeing their potential and helping them to move forward, whether it is academically, socially, emotionally- helping them get closer to their hopes and dreams," she said.
Growing up, Stephenson dreamt of having many careers, including becoming an engineer, but did not plan on becoming involved in education. "I never really said I want to be an educator," she said, "I naturally fell into it. Looking back, I had to say it was my own high school experience [that inspired me]."
"School was a place to be a home away from home for me. It gives me opportunities. It prepares me for life," she said. "Students spend as much time at school as at home. For some students, school is even a better place than home, and I would like Adolfo Camarillo High School to be a place where all the kids feel they belong and [can] thrive."
Stephenson said her transition from kindergarten to other levels was surprisingly easy. "All along, people have asked me if I wanted to go into administration. And I would say, 'why would I want to do that? Doesn't seem like fun at all.' Look at me now; I love it," Stephenson said. "I like working with people, and that's what this job is about. If I'm as good as I hope to be, there will be some gratification in knowing I could apply what I learned as a parent, teacher, student, and human being, to leading an accomplished high school like Adolfo Camarillo High School."
Stephenson's goals for Cam High's future includes adapting to a contemporary mode of learning. "We need to adjust learning experiences to fit what kids need to do differently now, in the twenty-first century, than in the past," Stephenson said. "Going from an era where it was focusing on multiple choice testing and memorization, we are realizing that to prepare kids for the future, [they need] to be creative, able to think critically, communicate, and work well in teams."
Leave a Comment
About the Contributor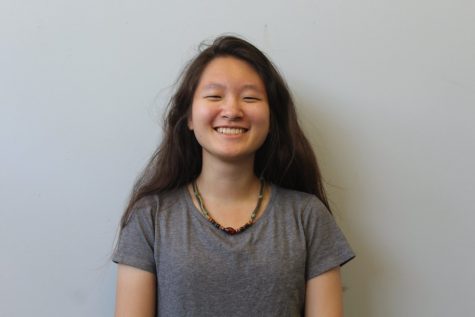 Chun-Tzu Huang, Features Editor
Hello everybody, I am Chun-Tzu Huang,  a senior, and it is my second year on the Stinger staff.  I am a lover of creative writing and a bit of a writing...