Music, Math, and Mastery
Students in wood shop have been working for the past three months on building wooden guitars and bass guitars, and, having recently completed them, were awarded STEM achievement cords for their endeavors and are allowed to keep their completed instruments.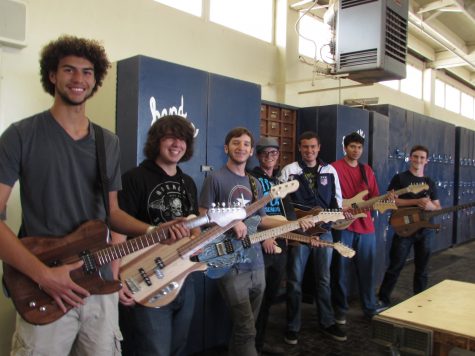 Last February, Mr. John Mills' students, many of whom are in both his woodshop class and Mr. Don Crowell's physics class, were given the opportunity to begin a project to build guitars and basses using kits. From these kits they constructed instruments of their own design.
Seniors Thomas Rebbe and Francisco Villegas were two of the seven students that chose to create guitars. "It's a hard project," said Rebbe. "It takes a long time, but in the end it is definitely worth all the effort."
On the other hand, Villegas believes that others made the project sound more difficult than it actually was. "Well, it's not as hard as people think it is," he said. "This is my first year in wood shop but it's nothing to worry about. Anybody can just come in and build it."
Rebbe, in addition to making a guitar, was also one of the seven who chose to build a bass guitar. "[My bass, personally,] was easier because this was the first year they had offered it as a kit," he said.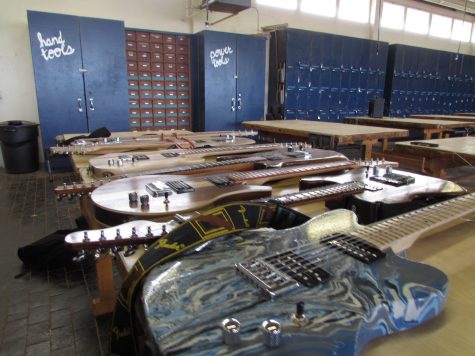 The STEM achievement cord is earned when a student completes multiple tasks in multiple classes.
"The thing is, people would take wood shop but they wouldn't take physics, and the people who took physics wouldn't take woodshop, so I think people should combine them." said Villegas. It's the only way to earn the cord.
Aside from the up front cost of $200 for a guitar and $250 for a base guitar, students claimed that the construction of the instruments was not too troublesome. "Definitely the hardest parts are sanding and putting in the frets," said Rebbe. "Aside from that, it is not actually too difficult. It's just time consuming."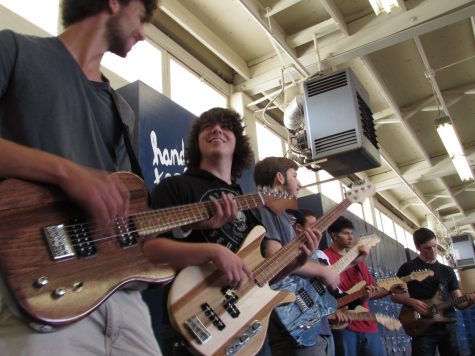 Those who wish to build a guitar may still do so without being in wood shop; however, they will not receive a cord for their efforts as they were not in both classes.
"Overall, I think all of our guitars turned out really well. We put a lot of time and effort into them, and I think we just loved what we did," said Rebbe. "Pretty much all of us play guitar, too, so we already knew what we were looking for."
Leave a Comment
About the Contributor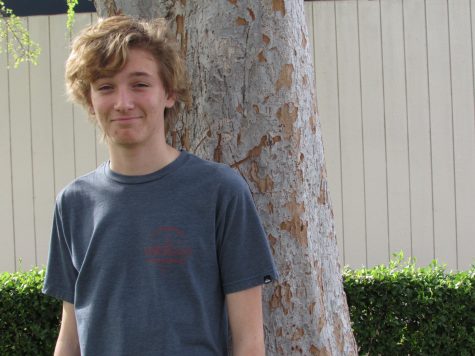 Morgan Menin, Retired Staff Writer (2014-2015)
Hey, I'm Morgan, a staff writer for the Cam High Stinger. I'm a junior, 17 years old and I enjoy cinemas-- especially my sci-fi films, but I love my Japanese...