Students shine at annual talent show
Twelve Cam High students performed in the gym for the annual Cam High Talent Show on Friday, March 20, showcasing a variety of different talents ranging from singing to juggling. Many of the people in the crowd felt that all of those who performed did a great job.
"I enjoyed it," said Ms. Lori Pristera, English 2 Honors teacher and one of three judges for the show. "It was my tenth time being a judge, and it was a great time. It was awesome to see everyone's talent."
The other judges besides Pristera were Ms. Jessica Unterberger, substitute teacher, and Ms. Adrienne Denny, Spanish teacher.
The first place winner was Asha Nahas, freshman, who acted out "Progression of a Modern Day Heartbreak," a spoken word piece she had written herself that was inspired by a middle school romance.  She received a two-hour recording session with Rocky City Studios for winning first place. "I didn't think that I was going to win, to be perfectly honest," said Nahas. "I already guessed who was going to be first, and I was definitely surprised when they announced winners."
Second place went to Spencer Chavez, senior, who danced to "Pop N Lock." Seniors Vina Monte-Alegre and Alexandra Feuerborn were awarded third place for singing "Oceans" by Hillsong despite a technical difficulty occurring in the middle of their performance which cut off the music.
Monte-Alegra and Feuerborn sang as a duet in order to support one another emotionally. "We both have a past of being bullied, so we were scared to perform alone," said Feurerborn. Monte-Alegre said that she would not have had the courage to participate if Fuererborn had not convinced her to.
Feuerborn hoped that more of her peers would audition for the next talent show. "You should definitely at least try, because if you want to and don't, you'll regret it," said Feuerborn. "Talent isn't just singing. Talents are all so unique, and everyone should show them in some way."
The Talent Show was hosted and set up with the help of the ASB, faculty, and both the junior and senior class cabinets. With the help of her cabinet, Senior Class President Leann Pham publicized the event, coordinated the auditions for the acts, held practices, and fixed up the gymnasium to be ready for the show. "I loved [the talent show] this year," said Pham. "I think it was a great thing to do and end my senior year with."
Leave a Comment
About the Contributor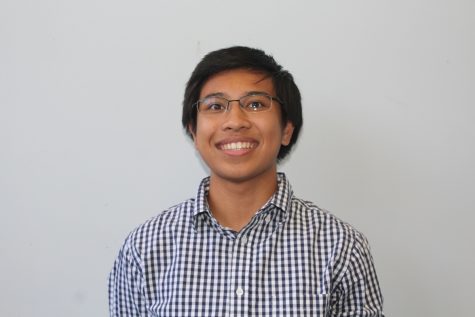 Gaberiel Delacruz, Staff Writer
Hello! My name is Gaberiel Delacruz and I have been apart of the Stinger for four years. I love interviewing people because it's one of the best parts...