Oh, Baby!
Students of Mr. Chip Mills's woodshop class recently crafted a new charging cabinet for the Developmental Psychology students, allowing the mechanical babies to be stored and recharged more efficiently.
"This is a tribute to the students," said Mills. "This is completely student-done work."
The cabinet was initially started last year by Nick Ponce, a 2014 Cam High alum and former student of both Mrs. Ida Lange, Developmental Psychology and Little Scorps Instructor, and Mills, during his senior year. The idea was presented to Ponce by Lange, who wanted a cabinet in which she could charge her mechanical Reality Works baby dolls while they were waiting to be loaned to students. Micah Brogdin and Collin Kruse, current seniors, completed the project just before spring break.
"I'm excited to say the least," said Lange. "The cabinet will save me a lot of time of finding outlets to charge the babies on all spread out. It saves time, is more organized, and is beneficial to the students who now don't have to wait for their baby to be charged."
In an online Reality Works catalog, the charging cabinet for the mechanical babies is priced at $6,100. The woodshop made the charging cabinet with an estimated $485, including electrical and wood costs. The cabinet is able to charge fifteen of the mechanical babies at a time, five in each of its 3 drawers. Lange currently owns seven babies.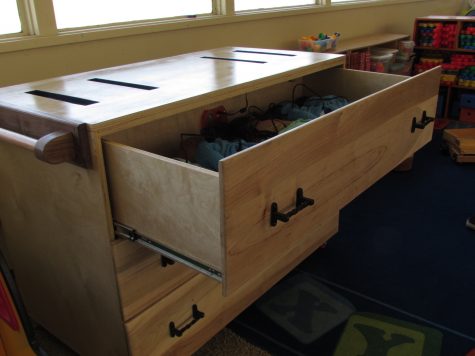 Mills viewed the saved money as an example of the many useful skills acquired in woodshop."[Woodshop] stimulates tactile students and stimulates more interest in science with our collaboration with Mr. Crowell [physics teacher]." Cam High's woodshop class was given an estimated $2000 by the district this year, a paid fee for utilities to be used for individual projects, and donation pools for wood and equipment.
The mechanical Reality Works babies are distributed to Developmental Psychology students for as a long-term assignment that requires them to care for the baby for two days and one night. If they choose to keep the baby for longer they get extra credit. Additionally, students have the option to get makeup credit if they don't do well with the baby the first day.
The Little Scorps' "Big Kids," students who aid the toddlers, are also given the option to care for the babies and are even encouraged to do so.
Leave a Comment