The Rapid Spread of Senioritis Across Campus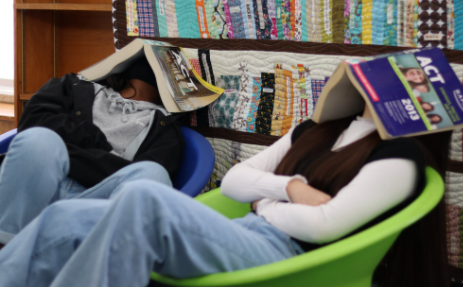 A fast spreading disease is breaking out among the class of 2022 at Cam high. Reports of the illness have been getting increasingly higher as the year progresses. At this rate, seniors are beginning to drop like flies.
Senioritis is a disease that only affects senior students. It usually strikes students unexpectedly towards the middle of a school year, and suddenly ends upon graduation. The Urban Dictionary defines the illness as "A crippling disease that strikes high school seniors. Symptoms include: laziness, an over-excessive wearing of track pants, old athletic shirts, sweatpants, athletic shorts and sweatshirts." In support, Cam High Senior Brian Johns says, "I can vouch for that."
According to educationworld.com the most common symptoms include: "Mild to moderate cases of staring out the window, swollen ego, homework fatigue, inflammation of the whining gland, acute mediocrity, short-term memory loss, excessive tardiness, classroom intolerance, excessive hallway wandering, existential malaise." Sarah Jones, Senior, who has recently come down with a tough case exclaimed, "The symptom that's attacking me the hardest is the lack of motivation. I see no point in even showing up to school, so honestly, I don't." 
This disease has been plaguing students for years now. Every school year we see a sudden spike in the illness around spring time, which is exactly the case at Cam High. Fellow classmates and teachers are beginning to gain concern for affected students. Mr Jones stated, "Yeah, they really just don't care anymore." Unfortunately, the only known cure for affected seniors is graduation.