Stinger Rewind: Most Popular Albums Released in 2021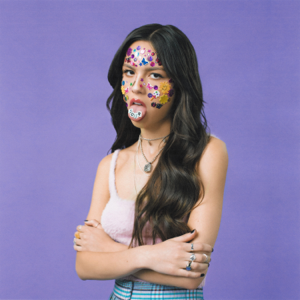 Music is one of the most influential and important things in our society. Music is everywhere, everyday, constantly being heard and talked about. In 2021, over 20,000 different types and genres of albums were released throughout the year. New and aspiring artists, and artists of many years of knowledge and skill created amazing albums this year. Like usual, there were beautiful, amazing albums that are pieces of art that got the attention they deserved. The most popular albums were usually popular because of their release being from known artists, and were spread to gain more popularity through their fans. Over the thousands of albums released over the course of the year, here are some of the most popular.
 Olivia Rodrigo, SOUR
Olivia Rodrigo's album, Sour, was released on May 21, 2021, breaking records with 2.69 billion streams on the music streaming app, Spotify, and is the most streamed album of the year. With the help of her single, "Drivers License" and her internet shaking album, Sour, Olivia Rodrigo has had massive success in the year of 2021. In the first five weeks of its release, Sour sold over 100,000 units. The pop-rock album with the theme of teenage heartbreak touched millions worldwide with the emotions weaved in the beautiful lyrics.
Tyler, The Creator, Call Me If You Get Lost
Call Me If You Get Lost was released in the midst of summer on June 25, 2021. The album is Tyler, the Creator's second No.1 album on the Billboard top 200 with 152.96 million streams within the first two weeks the album dropped. Call Me If You Get Lost features guest appearances such as Lil Wayne, Lil Uzi Vert, Pharrell Williams, Brent Faiyaz, Domo Genesis, 42 Dugg, YoungBoy Never Broke Again, Ty Dolla Sign, Teezo Touchdown, Daisy World, Fana Hues, and DJ Drama. With the release of the album, Tyler also released a new line of merchandise to go with the album, and increased the promotion. Tyler is a lyrical genius with his songs, and it is not a surprise that his album got lots of attention and appreciation this year.
Doja Cat, Planet Her 
Doja Cat dropped her third studio album, Planet Her, on June 25, 2021. Released on the same date as Tyler's album, Call Me If You Get Lost, Planet Her was marked No.2 on the Billboard top 200. After surpassing 1 million streams in the first month of the release Planet Her became the fastest album created by a female rapper in history to get to that point. The Grammy nominated album featured artists such as Ariana Grande, The Weeknd, Young Thug, J.I.D, and SZA. Planet Her is a beautiful blend of pop, rap, and R&B and a great album for Doja's career.
Billie Eilish, Happier Than Ever 
19-year old Billie Eilish released her third studio album, Happier Than Ever, on July 30, 2021. The Grammy winning LP reached a whopping 59 million streams on the second week of it's release. The 16-song album covering heartbreak, adulthood, and toxic male gaze shows Billie's growth as a person and an artist. Billie Eilish is one of the generation's most significant and popular pop artist because of her young age, like Olivia Rodrigo, and will continue to be.
Kanye West, Donda 
Donda, Kanye's tenth studio album, was released on August 29, 2021 after multiple delays. Across the 27 tracks on the album, it received over 33.4 million streams. Donda features many artists who Kanye West gathered to contribute to the album such as Jay-Z, Kid Cudi, Playboi Carti, The Weeknd, Travis Scott, Baby Keen, Don Toliver, and many more. Donda was one of the most anticipated album of the year; the album was dedicated to Kanye's mother, Donda. Donda follows a hip-hop gospel theme and it reveals Kanye's issues with his mother's death, his separation with Kim Kardashian, and his Bi-Polar Disorder.
Drake, Certified Lover Boy
Drake's 2021 album, Certified Lover Boy, was released on September 3, 2021. This was Drake's sixth studio album and it shows themes of the struggle of fame, love, and the vulnerability in his life. The album had a total of 744 million streams, 153.4 million streams which were exclusively on Spotify. Features on the 21-track album includes Jay-Z, Young Thug, Kid Cudi, Lil Wayne, Travis Scott, Future, Yebba, Lil Baby, 21 Savage and many other artists. CLB is Drake's tenth No.1 album on the Billboard top 200, with the help of the hype before it's release.
Lil Nas X, Montero 
On September 17, 2021 Lil Nas X released his first offical LP, Montero. The 15-track album became the most pre-added album on Apple Music and earned over 125 million streams. Montero has guest features such as Elton John, Megan Thee Stallion, Doja Cat, Jack Harlow, and Miley Cyrus. Lil Nas X has been a great image and a idol for queerness and confidence as a gay black man. Montero was a very long anticipated album, fans waited two years for the release and were excited to enjoy.
Lana Del Rey, Blue Banisters 
Lana Del Rey released her eighth studio album, Blue Banisters, on October 22, 2021. The album debuted at No.8 on the Billboard 200 and 18.6 million on demand streams. The 15 track album had many themes and genres that here covered throughout the album. Blue Banisters's initial release was teased to Lana's fans multiple times so they were excited when the album was finally released.
Silk Sonic, An Evening with Silk Sonic
The collaboration album between Bruno Mars and Anderson Paak, An Evening with Silk Sonic, was released on November 12, 2021. The album reached 81.6 million on demand streams during the first two weeks of the release. The collaboration album is a short one, only 9 tracks that add up to 31 minutes of listening. An Evening with Silk Sonic has special features including Thundercat, drummer Homer Steinweiss of the Dap-Kings, Kenny "Babyface" Edmonds, James Fauntleroy, D'Mile, and others. Silk Sonic is a feel good, smooth soul, funky album that anyone can enjoy.
Taylor Swift, Red (Taylor's Version)
Taylor Swift dropped her rerecording of her album, Red, on November 12, 2021. Red (Taylor's Version) broke many streaming records by becoming the most streamed female made album in a day on the streaming app, Spotify. The album got 90.8 million streams the first day of its release. The 16-tracked song is one of Taylor's most beloved album she has made so it is no surprise that the re-recording of it boomed with popularity.
Adele, 30
Adele dropped her fourth studio album, 30, on November 19, 2021. The album was featured on the Billboard top 200 with 185.39 million on demand streams. 30 had collaborations such as Greg Kurstin, Ludwig Göransson, Max Martin, and Tobias Jesso Jr. Adele featured in the album. This 12 track album is her newest after six long years of waiting for new album. It talks about her divorce, and how she's been healing from it and it has many feels. This album gets people in their feelings.
As 2021 comes to a close, music continues to thrive. People around the world will never stop listening to music, and there is much anticipation in the future about what could be next for the music industry, and all the artists that continue to make an influence in the world with their music.