Camarillo Community Church Hosts High School Prom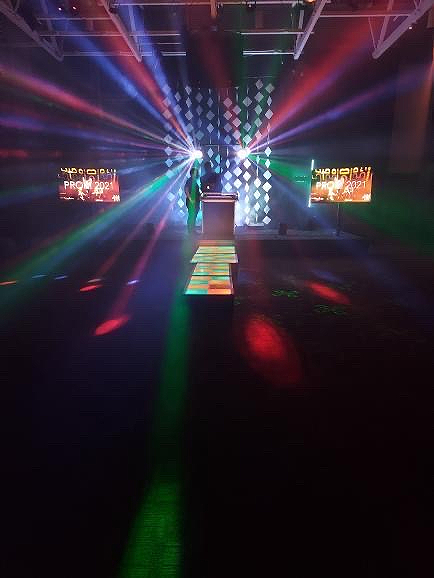 With the pandemic taking over everyone's lives, seniors across the nation have lost a lot of their high school experiences. One experience specific to a lot of American pop culture movies and television and often most looked forward to is prom. Since Cam High decided to step down from issuing a COVID-19-regulated prom, instead calling it a formal and issuing it at a later date, the Camarillo Community Church stepped up to the challenge.
Zack Lawler, the High School Pastor at Camarillo Community Church, gave some insight as to the motive behind this event: "The motive is simple, our students lost out on so much this year and we want to offer an awesome event that they thought they could not have."
Students were asked to wear a mask inside as the room capacity is limited to 25%. There were air scrubber systems in their AC units and low touch food service was implemented. Some attractions included a professional DJ-MC (@GrooveFactorEvents), a huge sound system, a photo booth with a photographer, a hangout room/game room, plenty of dessert, and a soda mixologist.
This semi-formal event was open to every high school student in town, younger classmen included, and tickets were purchased via the Camarillo Community Church website. The event was located at 1322 Las Posas Rd, Camarillo CA 93010 in the activity center and took place during 7:00-9:00 pm.
Prior to the event, Lawler assured students and parents that "our church staff will manage the event and there will be security/chaperons all night." It is important to note that this prom was not affiliated with Cam High or any other local schools. The Camarillo Community Church is a local ministry that wanted to give their teens as legitimate of a prom as possible. 
Mr. Kenny Kibble, parent of Cam High senior Molly Kibble, also happens to be the executive pastor at the Camarillo Community Church. He said he is thrilled his daughter got to attend this important event. "I am saddened when I think of all that this pandemic has taken away from our seniors. Specifically, the dances, attending football games and rallies with friends, that feeling on the last day of school when you walk down the main hall and close your locker for the last time and think, 'So that was high school,'" said Mr. Kibble.
In regards to Cam High's struggle with putting together a formal event, Molly Kibble feels that the school is doing the best they can under the strict government regulations they are under. She noted, "I think as a church we have much more freedom to put on such events without the government restrictions in place." Ms. Kibble feels that the Camarillo Community Church wanted to provide the community with an event that is valuable to so many kids, and this ties into one of their core values which is to step outside their doors and do something for the community.
Mr. Kibble agreed, adding that it was much easier for them to offer this kind of event right now: "By no means do we feel like we are in competition with the school. We are offering an supplemental event for the students in our church and community. If the school offers a formal event of some sort then we would fully endorse their event as well."
Ms. Kibble hopes that those who attended Camarillo Community Church's prom will come back to their group, become apart of the community they have, and hopefully attend future events such as this one. Mr. Kibble, a graduate of Cam High's class of 1990, said he hopes this event helped students create similar memories to the ones he had his senior year.