Victorious
Fourteen-year-old Victoria Dearden won first place in the Pleasant Valley Lions Student Speaker Contest at Pacifica High School on Jan. 27, and is now in the running to earn a $10,000 scholarship.
Ms. Heidi Resnik, English teacher, introduced Dearden to the contest after receiving an email from the PVLC about the competition. "When I got [the email], I knew Victoria would be great for it," said Resnik. "She has a natural talent [for speaking] in front of adults and crowds."
Dearden will be presenting her speech again in a zone-level contest against students from from Fillmore, Santa Paula, and Simi Valley. The winner of that competition will then compete against students at the region level, expanded to include those from Oxnard and Saticoy. At the district-wide competition, 15 students from San Luis Obispo, Santa Barbara, and Ventura County will be selected to receive $4500 scholarships. Those students will then compete in an even larger pool of applicants from a designated "area." Four area winners will receive $6500 scholarships, and finally proceed to compete in a state-wide competition consisting of all the Lion Club areas. The ultimate winner at this level will gain a $10,000 scholarship.
At the Pleasant Valley level, Dearden's only competitor was a junior from ACE Charter High School, Spencer Emmons. After she was announced the winner, Dearden received $100 and a recognition plaque commemorating her for presenting her thoughts on the topic: "Water Conversation – How Do We Reduce, Recycle and Reclaim?"
During the weeks leading up to the contest, Resnik helped Dearden get ready for the event. "[Dearden] put in about 6 hours to work on the topic for [water conservation] and four hours to fix her speech," she said.
When Resnik attended the event to support her pupil, she waited in anticipation and was ecstatic when Dearden won the competition. "It was a very proud moment," Resnik said. "It was amazing to see her articulate her words."
By having to research for her speech, Dearden learned a lot of information she was previously unaware of. "It was cool to discover how much of a drought we are in and how it affects us all," she said. "It brought awareness to my family, and it was amazing over all."
Leave a Comment
About the Contributor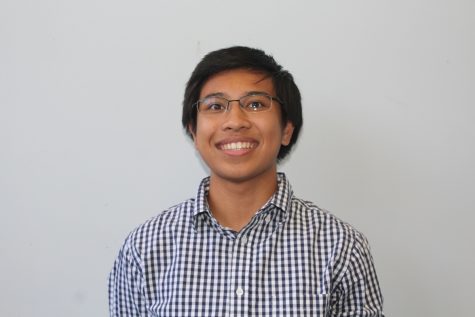 Gaberiel Delacruz, Staff Writer
Hello! My name is Gaberiel Delacruz and I have been apart of the Stinger for four years. I love interviewing people because it's one of the best parts...