The Sun is Also a Star Movie Review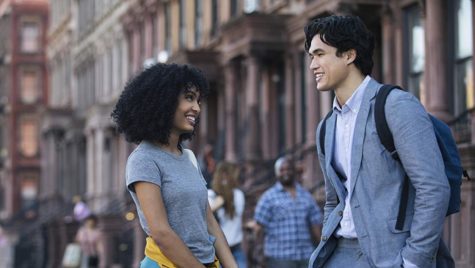 Directed by Ry Russo-Young, The Sun Is Also a Star is an American teen drama that hit theaters nationwide on May 17, 2019.
Based on the young adult novel by Nicole Yoon, the film follows the story of 17-year-old high school student Natasha Kingsley, who is played by Yara Shahidi.
Natasha is a Jamaican-born teenager living in Brooklyn, but her family faces deportation. Natasha is desperate to find a lawyer that will be able to reopen her family's case in hopes that it will allow her to stay in the United States. Daniel Bae, who is played by Riverdale actor, Charles Melton, is introduced in the film as a first-generation Korean-American who is pressured by his parents to become a doctor, relying on a single interview to gain admission into Ivy League school, Dartmouth.
Deus Ex Machina plays a vital role in how Natasha and Daniel meet in the film. Bae wrote the Latin term, which means "god from the machine," inside his poetry book the morning shortly before he saw Natasha in Grand Central Terminal. Noticing that Natasha's jacket was embroidered with the same term, Daniel decides that it is fate and quickly becomes interested in knowing Natasha.
Daniel spends the day with Natasha in hopes of convincing her that love is real. The movie seems to end on a bad note with less than a fairytale ending. Natasha is unable to prevent herself and her family from being deported, and Daniel does not finish his Dartmouth interview with a lawyer.
However, the movie then flashed forward five years. Natasha ends up finding her way back to New York City after attending university in Britain. She searches for Daniel after losing contact due to time and distance. As an attempt to reunite, Natasha decides to meet lawyer Jeremy Martinez, the same man she reached out to for help years ago.
Martinez informs Natasha that he has not seen Daniel ever since he ran out of his Dartmouth interview to chase after her. Slightly disappointed, Natasha nearly walks out of the cafe when Daniel is revealed to be working there. The two reunite with a kiss after Natasha informs him that she will only be in New York for one day.
Overall, there were a few differences that set the film apart from the book, but I do admire the fact that this was a teen drama that brought attention to present-day issues, such as racism. This is a love story that is far from realistic, so I would say that this movie is more for the people that would want an escape from reality.