Cam High Introduces School Uniforms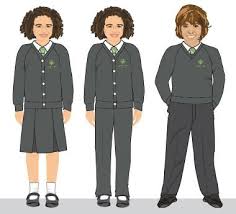 Cam High will be introducing school uniforms as a campus dress code regulation as of the 2019-2020 school year.
The OUHSD (Oxnard Union High School District) proposal was passed to "eliminate all sources of discrimination" at Cam High. Other Oxnard Union schools did not have the proposal passed because it was deemed "not necessary."
Girls will be required to wear a button-up t-shirt and a skirt that goes below the knees and boys will be required to wear a button-up t-shirt with slacks. Cam High will also allow for students to choose gender-neutral clothing, having an option to mix the boy and girl uniforms. Uniforms will be neutral grey colors.
If students choose not to wear their uniforms they will face suspension for up to two offenses. Three offenses or more will result in a student's expulsion.
Junior Joseph Reigen said, "I think that having school uniforms is a great idea. I do not have to think about what I should wear every day and no one will make fun of my usual choices of clothing. I thank OUHSD for the proposal."
Most students and staff are fond of having school uniforms at Cam High. A survey was conducted among 10 staff members and 200 students on whether Cam High should have uniforms or not. 79% voted in favor of school uniforms.
Freshman Robin Hancock said, "What is there to dislike about having school uniforms? It benefits all students in a simple way. Students will not have to spend obscene amounts of money worrying about appearance. Implementing school uniforms will take away the vain mindsets some students have."
Not only students will be subject to wearing mandatory school uniforms, but teachers will have to wear proper clothing as well. Teachers and staff will have a wider variety of choices as opposed to students — having to wear business-casual, neutral-colored clothing. OUHSD will be releasing guidelines for student and teacher/staff clothing on Apr. 13, 2019.
Senior Richter Aran said, "I am happy I will not be here next year to wear a uniform. It at least seems fair that teachers and students will have to oblige to a strict dress code."
The school will be providing students with five uniforms to buy for $64.99 during summer orientation.
This story was written as a part of The Stinger's April Fools edition. Names, characters, places, events, locales, and incidents are either the products of the author's imagination or used in a fictitious manner. Any resemblance to actual persons, living or dead, or actual events is purely coincidental. No animals were harmed in the making of this story,