Taste and Tell #12: La Mera Michoacana
Tucked away in the Ponderosa Plaza, La Mera Michoacana is a hidden gem that sells a variety of treats ranging from ice cream to pico de galles and elotes. From 10 A.M. to 10 P.M., the small shop invites guests in with its bright decor, catchy tunes, and lively atmosphere.
The Experience 
Right off the bat, you are surrounded by color and upbeat music. We were greeted by a warm and welcoming atmosphere with friendly customer service as well. There were plenty of options ranging from mango to coffee ice cream. The store also sells fruit bowls, smoothies, chips, etc. There was a fair amount of seating, with stools at a counter opposite the payment area. Overall, I would say the place was a fun place to eat with friends.
The Food
Shannon: I ordered the Oreo ice cream in a small cup, which cost $3.45. The cup was quite small, but it seemed to me that it was a pretty standard price for a small cup of ice cream. The ice cream was great: it had lots of cookie chunks, which I am a really big fan of, and the ice cream itself was good too. I would not say it is my all-time favorite ice cream but I thought it could be quite a competitor for other Oreo ice creams. I would definitely go again because it is not too expensive and the ice cream was exceptional.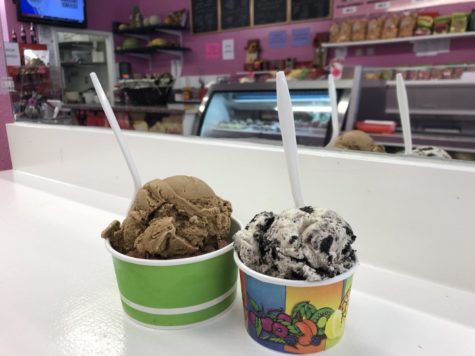 Cassie: I ordered a double scoop of chocolate and coffee ice cream, which cost $5.95. The ice cream had a unique flavor that did not resemble the traditional chocolate and coffee flavors, making it even more delectable and enjoyable. The ice cream had a smooth and creamy texture that seemed to melt in my mouth. The ice cream was rich and decadent, and it had the perfect amount of sweetness. My portion size was fairly generous and overall, I enjoyed my experience. The taste shocked me a little bit as it did not taste at all like what I expected.
Overview
Overall, this small, enjoyable ice cream shop is welcoming, has good prices, and has a good range of choices for both ice cream and other snacks. The prices are good, a small cup is $3.45, medium is $5.95, large is $6.95. For the cones, the cake cone is $3.45, small sugar cone is $3.45, medium sugar is $5.95, and large sugar is $6.95. The price ranges from $2.75 to $22.00.