Scorp Spotlight 29: Jaime Jaquez Jr.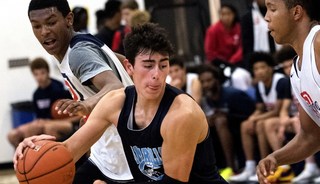 Cam High senior and varsity basketball player, Jaime Jaquez Jr., will hold the wing position on the University of California, Los Angeles's basketball team in the upcoming 2019 Fall season.
Jaquez's inspiration to play came from both his parent's influence and from watching basketball games on television when he was younger. He began playing on an all-star team when he was in second grade. Later on, he also played on various travel teams such as The Truth and numerous other clubs. His freshman year of high school, Jaquez had the opportunity to join the varsity basketball team at Cam High.
Basketball is not the only sport Jaquez has played. He was involved in soccer before middle school and football as well as baseball during his time in middle school. Recently, Jaquez has also started playing golf after a 10 year hiatus.
Jaquez's main goal is to pursue a professional basketball career after he attends UCLA; however, if that does not work out, he wants to pursue a career in real estate, possibly owning hotels. Currently, Jaquez plays the wing position and plans to continue playing that position when he goes to UCLA.
Varsity boys' basketball player, Brandt Skolnick, senior, said, "[Jaquez] really good at basketball. He's the best player I have ever played with." Many of the players look up to Jaquez since he is the team's captain.
As captain of the varsity basketball team, Jaquez has the responsibility of leading and being an example to the rest of his team. "The hardest part of playing varsity this year is just getting people to play together and be a leader to the rest of the team," said Jaquez.
"As he's grown in his leadership role, our team has improved, so that's something I am proud of," said Coach Michaeltore Smith.
In the middle of the basketball season his sophomore year, Jaquez sprained his ankle, preventing him from playing a total of twelve games over the course of six weeks. "I was a little set back, but you know, I came back stronger than ever," said Jaquez. On Jan. 19, Jaquez beat his previous record of 50 points scored in one game by scoring 54 points in a win over Royal.
"He's put in a lot of work to get to where he is at. He's a really great player," said Anthony Frausto, junior and member of the varsity boys' basketball team.