Cam High's Winter Wonderland
Cam High's ASB hosted winter festivities with live snow, holiday music, and a visit from Santa Claus at lunch on Thursday, Dec. 20.
As with many of Cam High's festivities, the event was put on by Groove Factor Entertainment. Don Henry of Groove Factor said that the 'snow' was donated and free of charge. Henry has a child attending Cam High so he felt compelled to help organize a winter event for students.
The 'snow' was actually small clusters of foam and bubbles, but they floated through the quad to give the impression that it was real snow. On the stage was a Christmas tree and a sparkling backdrop.
Once the music began playing and Santa Claus arrived on stage, students lined up in the quad to take pictures. "We had a lot of participation, probably more than any other rally this year," said senior and ASB President Jacob Curren.
For the holiday season, ASB also hosted a spirit week where students wore Santa hats, snow gear, pajamas, white clothing, and ugly sweaters. "[Holiday spirit week] had pretty easy things to dress up for . . . I feel like it just adds to the holiday environment," said Curren.
The event was free of charge since the snow machine was donated. Cam High math teacher, Mr. Joel Groves, dressed as Santa Claus, and all of the decorations were re-purposed from the ASB room.
The rally received positive reactions and praise from students and staff. Cam High's principal Dr. Kim Stephenson said the event was the "best of the year."
Evan Pritchard, freshman, said, "It's pretty cool, the snow is super realistic, seeing the snow helped brighten up my day."
About the Writer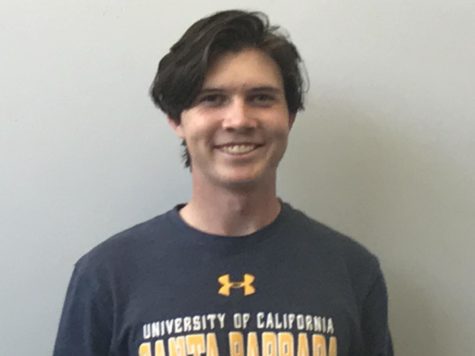 Eric Burschinger, Staff Writer
Hello! My name is Eric Burschinger, class of 2019. I am VP of Naturally Green, a highly active and award winning environmental club here at Cam High. I...