Winter gets formal
Cam High's first ever winter formal dance was held at the Ventura County Fairgrounds on Jan. 31, featuring DJ Malski and a performance by the locally famed rapper KYLE.
Although the formal was scheduled to begin at 8 p.m. and end at 11 p.m., the last song was played around 11:15 p.m..
Due to another event simultaneously being held in a different portion of the fairgrounds, heavy, standstill traffic was present for over a mile around the location. As a result of the congestion, the first hour of the dance was quiet and hosted about 40 people, most of whom remained stationary at their respective tables.
The next hour saw a majority of guests arrive, raising the number of those present to about 100 students. Dancing began around this time as DJ Malski dug deep into his hip hop remix playlist. "The setup for Winter Formal was incredible […] including video screen with live texting! It was CRAZY!" he said.
Upon entering, attendees were given two slips of paper, one black and one white, which they used to vote for their royalty out of the seven prospective queens (Dalis Davenport, Emily Krawkower, Alondra Galvez, Emily Orosco, Makayla Hamilton, Ladauna Skeeters, and Avery Minard) and five prospective kings (Matthew Schroeder, Garrett Roberts, Michael Hueber, Kai Wieght, and Matthew Garcia). All court nominees were seniors. After an hour of dancing, DJ Malksi announced the winter court once the votes had been tallied.
Michael Huber and Dalis Davenport, as runner-ups, were awarded the prince and princess position respectively. Kai Weight was crowned king of the winter formal, and Emily Krakower was given the title of queen.
After the crowning, the feature act of the night, KYLE, began his performance alongside his "super duper" friends. He sang from his music catalog, including "Raining Love," and ended after performing an encore.
Due to the failure of previous attempts of a winter formal, many students were happy to be able to attend this year. "I was looking forward to winter formal last year, but then it got cancelled," said Josalyn Cao, junior. "I was pretty excited that this event was put together again."
A rally was held the Friday before the dance to help promote the event, particularly with the return of DJ Malski from homecoming and the announcing of special guest KYLE.
"[Malski] was great! He had lots of energy, which made us want to dance. He was awesome," said Kaylee Ortega, sophomore.
However, other students reported that the presentation was not what they had expected. "I liked his energy and positive attitude, but his choice of music was outdated and kind of bland," said Elise Umetsu, junior. "It would be nice if in the future we could get a DJ who plays songs made after 2008."
These thoughts were also mirrored by attendees that came as the guests or dates of Cam High students. "The music was disappointing," said Alex Mann, senior from El Camino High. Mann noted that although "it was alright," he will not be attending next year.
DJ Malski, however, said that he "would absolutely love to [perform] again."
The larger venue at the fairgrounds was a refreshing change from the usual campus blacktop where dances are normally held, expressed many students. "There was a lot more room. At homecoming it was pretty cramped, and I kept on bumping into people," said Cao.
"I thought the party was alright," said Joel Gonzales, senior. "The royalty was pretty cool, and there were a lot of things to do."
Leave a Comment
About the Contributor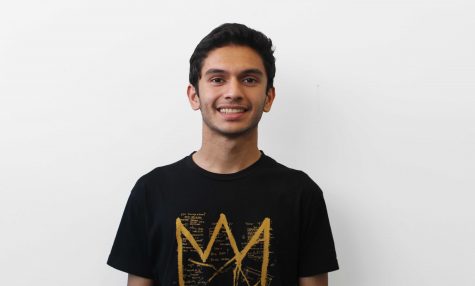 Avesta Reddy, Managing Editor
Hi, my name's Avesta (pronounced: A-ve-s-ta) and this is my second year with the Stinger. My hobbies include travel, preferably in the third world, virtual...