Prague: Cam High's First-Ever Service Dog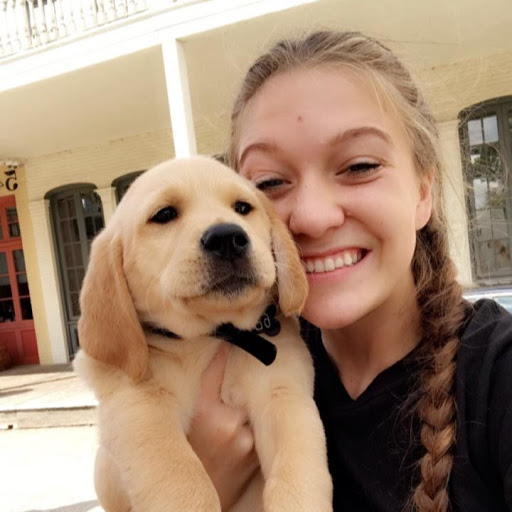 Cam High's Agricultural Department has developed a program in conjunction with Guide Dogs for the Blind (GDB) that allows members of Future Farmers of America (FFA) to train a service dog on campus, and I will be the first member to do so.
Starting in Dec. 2018, I will officially begin training Prague, a four-month-old golden lab puppy. I have undergone training through a GDB group in order to ensure that I am well-equipped with the skills necessary to take care of Prague.
The program works with other schools throughout the nation; however, this will be the program's first collaboration with a school in the Oxnard Union High School District (OUHSD). In April of my freshman year (2016), I started the lengthy process necessary to join the program and receive permission to raise a service dog.
Every year, the FFA hosts a state convention to vote on matters concerning the organization. They also hold a career and education fair where they have booths from colleges and companies that support the FFA, as well as representatives from schools across the state giving information about what FFA has to offer.
At one of these conventions in 2016, I met an FFA member from Northern California who was raising a puppy. She encouraged me to meet with Mr. Sam Swanson, the Agriculture Department Chair and Agriculture teacher at Cam High.
Swanson was open to the idea of me raising a service dog since multiple medical conditions prohibit me from raising livestock for the Ventura County Fair. However, due to many complications in the approval process it was not until Aug. 15, 2018 that the district gave the final approval to begin the training program.
Before I begin training Prague, I must puppy-proof my house and puppy-sit another service dog in training. This will occur within the next two weeks but, as of right now, a date has not been set.
I have recently talked to various long time puppy-raisers who told me the most difficult parts of raising the puppy will be letting go at the end of training. They also said it is difficult for people to be respectful of the fact that the dog is training and should not be petted or played with without my permission. This concerns me greatly because this can cause issues with Prague's training.
Unfortunately, after 13 months, I will no longer be training Prague because he will move on to participate in a more specialized training.