Taste and Tell #10: Popping Open a Boba With the Boys
With over 80 different flavors of boba drinks, Bigstraw Boba is the place to go for delicious, sweet beverages.
Boba is any beverage — including smoothies, milk tea, or coffee — served with black, medium-sized, tapioca balls (pearls) that enhance the drink's texture and flavor. Bigstraw Boba serves beverages with or without boba. There are three Bigstraw Boba shops in Ventura County, and I visited the Camarillo location in The Plaza at Mission Oaks.
The Experience
I went to Bigstraw Boba on Wednesday, Oct. 24, and Thursday, Oct. 25.
On Wednesday, directly after school, I ordered the caffeinated Hokkaido slushie and added boba for an extra fee. The store was fairly crowded at the time, and I talked to friends and drew on sticky notes while I waited. At the front of the store is a board full of drawings and messages written on sticky notes by previous customers. The sticky notes created an interactive and laid-back atmosphere. I posted my own drawings on the board and after five minutes, I received my Hokkaido slushie. The modern layout, caring service, and calm atmosphere set a casual mood that was perfect for relaxing with friends.
The following day, at around 4:30 P.M., I drove to Bigstraw Boba. The place was empty at this time and there was no wait. As I waited for my drink, I talked to the cashier, a friendly man who talked about his boba business. The drink only took him about two minutes to make. I enjoyed the service more when Bigstraw Boba was not crowded, especially after my interactions with the cashier.
A close-by boba shop is perfect for after-school, on-the-go, or when relaxing with friends and family.
The Drinks
The large Hokkaido slushie strongly tasted like coffee, which was unexpected. I, personally, did not enjoy the flavor, but it was still good and others might enjoy it. Ultimately, I ended up trading with my friend for his red bean slushie with boba. Since I have more of a sweet tooth, I enjoyed the red bean significantly more than the Hokkaido slushie, which was sweet but also slightly bitter.
On Thursday, I ordered a small Thai tea with boba, which is a classic boba drink that is most commonly seen at restaurants. I enjoyed the drink profusely. Bigstraw Boba managed to perfectly balance the sweet flavor of the tea so that it was not too overbearing. The only downfall was that there was too much ice in the drink that took away from the amount of tea I received.
Every beverage I drank had smooth textures and creamy bases. The red bean drink my friend ordered was my favorite out of the three drinks. The nutty flavor and sweet components tasted fresh and made me feel like it was healthy. The boba added a squishy but also solid texture that worked well with the creamy drink.
Overall, I would recommend getting a large slushie. The large size is only a couple dollars more than a small and the slushie takes up the whole volume of the large cup since there is no ice included.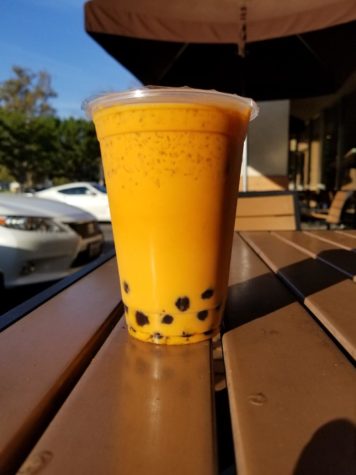 Overview
While the drinks did put a small strain on my wallet, I think it was worth it for the quantity and the quality I received. Boba places in Camarillo are few and far between so I know that I will be visiting Bigstraw Boba many times in the future. I encourage others to try out the drinks they serve, and there are plenty of flavors to choose from. Hours, locations, prices, and flavors are available at Bigstraw Boba's website.