The Earth is Naturally Green, Let's Keep It That Way
Cam High's environmentally friendly club, Naturally Green, hosted an Earth Day event on April 20, 2018 to raise awareness about student's carbon footprint and their impact on the community.
Earth Day is a worldwide event on April 22 that promotes environmental protection and preservation.
This is Naturally Green's fifth year hosting the event and each year differs from the last depending on the cabinet and president of the club. The current presidents, Sean McCarthy (senior) and Luke VanKeersbilck (senior), planned the event with the assistance of Naturally Green's cabinet. The club has gradually been preparing this event over the span of two months.
Ms. Tawney Safran, advisor of Naturally Green, allows her cabinet to arrange the event and they divvy up responsibilities amongst one another. Normally, all organizations from previous years are invited to attend, but the current cabinet controls what outside organizations to contact.
This years event had various activities. On the quad stage, fruit smoothies were being given out, but students had to power the blender by pedaling a bike. The Farm to School Program of the Oxnard Union High School District allowed Naturally Green to borrow the bike for the event. Ten booths–run by both students within the club, teachers, and outside organizations—were set up behind the stage and gave out information about environmentally friendly practices.
"I want students to think about the present and the future. It is really tough to not use plastic, eat organic, and live a super clean eco-friendly life all the time, but if anything it's just another reminder to celebrate what we are doing, celebrate each other, and come together to think about our footprint and our impact on the community. Today, we are providing a moment to acknowledge and to rejoice in the little things we are doing that do make an impact on our generation and future generations," said Safran.
First year member of Naturally Green, Emma Griffis (junior), prepared a stand that informed students of the importance of earthworms in the environment. "We really need to make sure that nature keeps it's order and that we aren't destroying anything unnecessarily. Naturally Green is always really active. Currently, we are working on many different projects, so it's not a club where you just say 'I love the earth,' we are actually doing something to preserve it," said Griffis.
Students were able to mill about the event and sample each booth. "I learned a lot about the environment and basically about how we affect it, but also what we could do to improve it. To me, this is especially prevalent since climate change and many other issues have been changing our surroundings and affecting our lives," said Edward Wang, sophomore.
Currently, Naturally Green is working on multiple projects to beautify Cam High and lessen the school's carbon footprint. A few of their projects include: establishing multiple gardens around the school, using water barrels to collect rain water, and painting a mural highlighting the importance of agriculture on the Agricultural Program's barn.
View Comments(1)
About the Writer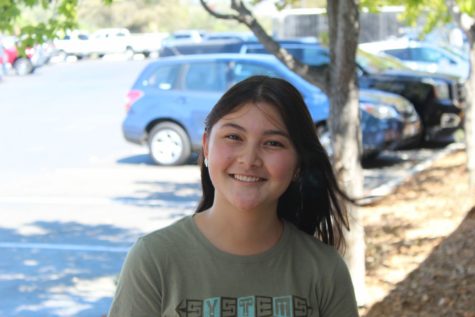 Marcella Barneclo, Editor in Chief
Hello, my name is Marcella and I am a senior here at Cam High. As this year's Editor in Chief of the Stinger, I'd like to welcome you to our site. I'm...