Revamping the Past, Gonzalez the Star's Girls Wrestler of the Year
Cam High wrestler Yazmin Gonzalez, senior, won her second straight California Interscholastic Federation (CIF) Northern Division title for spring 2018.
She placed fourth at Masters and sixth at State."It felt pretty good. I was super happy. I never pictured myself at CIF. I didn't even know what CIF was," said Gonzalez, reflecting on her victory.
As the only wrestler in the Ventura County area to place in the CIF Girls State finals, Gonzalez was named the Ventura County Star's Girls Wrestler of the year.
Getting there, however, was a journey for her because the season began with a wrestling injury. "For a week, one of my shoulders was always higher than the other one. I would tell coach that it didn't hurt because I hate missing out on practice, but he would make me take it easy which made me mad," said Gonzalez. 
The injury not only affected her physical abilities, but her mental strength at times. "I thought I was going to lose when I went to my first tournament. I was, like, my shoulder hurts. I'm going to lose," said Gonzalez. "I would just try not to think about it."
Assistant coach Deyvonne Mondragon helped Gonzalez with her training and motivation. Mondragon said, "Before the matches, I would always tell her that she was the best one in her weight class." While Mondragon motivates wrestlers, she believes it is the athlete's drive which makes them succeed. "Whether its winning or losing, I try my best, but what they do out there it's up to them," said Mondragon.
During her junior year, Gonzalez lost in the second round by two points during the State competition; this year, however, she conquered her past hurdles and was determined to win. "I asked her who was going to win and she said she was going to win," said Mondragon.
Gonzalez first began wrestling because Mr. Ron Wilson, Cam High's head wrestling coach, was her health teacher freshman year. He encouraged her to try out, but on the second day of sophomore year, Gonzalez wanted to quit. "It [wrestling] was so hard, but then I got the shoes. I was like, dude, I spent money on these shoes. I'm not just gonna quit," said Gonzalez.
"It's incredible how far she has come. She is naturally gifted, but she is also a sponge when it comes to wanting to learn new things," said Wilson, according to Ventura County Star.
Leave a Comment
About the Writer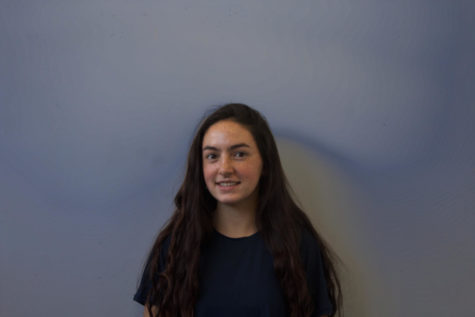 Catherine Wolfe, Staff Writer
Hey, I'm Catherine (Cat for short). I'm from Colorado but I grew up in Camarillo after that my family moved around out of state a couple of times and ended...