Music, Poems, and Coffee
Camarillo residents and students gathered at Element Coffee on Dec. 21. for a three-hour event that showcased the talents of local singers and the artistic styles of Cam High's Spoken Word Club.
The coffee night event was hosted by Ms. Jessica Unterberger, Cam High alum and substitute teacher, to help support the financial needs of EF Tour attendees on their trip to Europe this coming June. A small art sale also took place during the coffee night. All the proceeds went towards lowering the total tuition of the trip.
Mrs. Tawney Safran, AP European History teacher and adviser of Spoken Word, thought the event went smoothly. "It was a night of passion, and I liked how everything turned out," said Safran, a proctor of the upcoming EF Tour.
Many students said that the night was successful, and they appreciated the calm, open environment where they could demonstrate their talents."The greatness of the event was not in a single act or actor, but in all of the acts and how they blended together in a stress-free environment," said Alex Czajka, sophomore.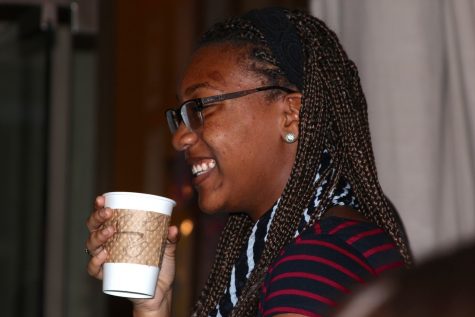 Other spectators also agreed it was enjoyable to see their peers and other performers exhibit their skills, musical and poetic. "I think that most were just as enthusiastic about the event as I was," said Unterberger. "It was a fun atmosphere, and there were plenty of talented people who came out to play or perform."
Musical performers included Mr. Vince Nardi, Mr. James Sandoval, Ms. Lauren Van Ouwerkerk, and Unterberger herself, along with several Cam High students.
"I felt well about my performances," said Czajka. "Being a stage actor, I do have experience in front of people and [it] was a welcoming environment [to perform in]."
Hailey Fulcomer, junior and secretary of Spoken Word, was also happy about the outcome of the event. "I had a really fun time. It's my first time ever doing a live Spoken Word, so it was fun speaking poetry out loud," she said. "I expected it to be a big stage, and that I would drop the microphone, but I'm glad that it wasn't like that. It was a great experience overall."
For those interested in joining, Spoken Word club meetings are held every Thursday in T8.
Another fundraiser, Battle of the Bands, will be held on Jan. 24 at Rock City, Camarillo to help the European travelers finance their trip.
Leave a Comment