Robotics Team is Programmed for Victory
Cam High has seen the recent addition of a Robotics Club — founded and formed by junior Justin Terryberry, club president. Currently, there are 13 members that meet on Wednesdays after school, with additional sessions on Saturday and Sunday.
Terryberry developed the club with the assistance of Mr. Jeff Jackson, the computer science teacher at Cam High, and Xavier Barneclo, junior and current vice-president of robotics. Since the majority of members had no prior experiences with robotics, Terryberry's father, engineer Mr. Mark Terryberry, assisted in teaching the basics to all members regarding the construction of the robot.
"I found out that [last] year the robotics club [was discontinued] and I [thought], 'this is a great opportunity for me to start a new club that is more into the field of being a safe and fun environment where anyone can join and learn about robotics,'" said Terryberry.
The team has been funded by grants from OUHSD in order to afford the cost of registration. The district wants to support STEM (Science, Technology, Engineering, and Mathematics) and STEAM (Science, Technology, Engineering, Art, and Mathematics).
In order to enter into the For Inspiration and Recognition of Science and Technology (FIRST) Robotics Competition as a rookie team, the team must pay a registration fee of $6,000. This amount covers the cost of a kit that contains essential materials to construct the robot. However, the kit does not come with any specific directions to the design of the robot, that is left to the innovation of the team.
Each year, the parameters of the FIRST Robotics Competition change. This year's competition requires teams to construct a robot that will pick up boxes and deliver them to a specific location nearby. The robot will be driven by one team member via remote control.
The team must comply with strict rules implemented by the FIRST Robotics Competition in regards to their robot, such as limits on the size of the robot, functions, and even the amount of money that can be spent purchasing additional materials.
"[What the club works on] are all real-world things and experiences [done] in a fun way to get [members] ready for when this stuff happens in some kind of a job. There's the programming element that's a great experience, all the wiring and using tools so that some of these people go on to be engineers," said Jackson.
The club has until Feb. 20 before their robot must be sealed in a bag and no additional modifications can be made. However, other parts of the robot can still be constructed and altered, but the team will not be able to apply them to their robot until the day of the competition when they are allowed time to prepare their robot.
The first competition is on March 29 at Ventura College. Successful teams will move on to compete in the final rounds. At least one rookie team will have the chance to compete in the finals, giving Cam High's robotics team a chance.
Jackson and Terryberry are working to form a class rather than keep robotics as a club for next school year. The team puts in more than five hours a week counting the weekend meetings and they would like to make it easily accessible to any and all students who are not able to participate after school.
"Joining the robotics team has been really rewarding as it has provided [me] with valuable experience in mechanical, electrical, and software engineering that can be applied to the real world," said sophomore Dakota Frost.
Leave a Comment
About the Contributor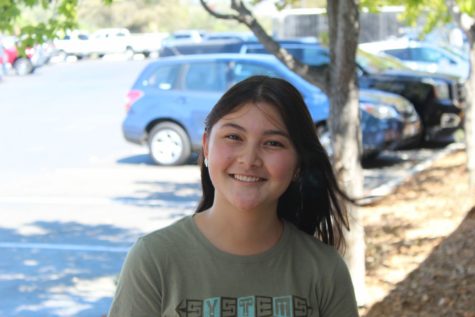 Marcella Barneclo, Editor in Chief
Hello, my name is Marcella and I am a senior here at Cam High. As this year's Editor in Chief of the Stinger, I'd like to welcome you to our site. I'm...