A Yale Tale: The story of Carlos Rivera
Cam High senior Carlos Rivera has reached new academic heights, receiving an acceptance letter from Yale University.
With a combination of hard work and unique ability, Rivera has achieved a task that many people dream of; he placed himself among the minuscule 6.3 percent of applicants accepted to America's third-oldest university, and has even been offered a full ride scholarship.
Upon receiving his acceptance letter, Rivera had an appropriate reaction that came from being admitted to such a prestigious school. "I freaked out in my AP Art History class and ran outside to call my parents and my counselor," he said.
According to Rivera, his parents were ecstatic when they received the news and are the source of his drive to excel in life. "My main inspirations have been my parents," he said. "They came here to raise their children so that my sister and I could take advantage of the opportunities that they didn't have in Mexico. Now at Yale, I'll be able to accomplish something great to honor them."
One of Rivera's favorite teachers, Mrs. Tawney Safran, AP European History teacher, attributed her former's student's success to his consistent character. "Carlos has not changed one bit. He has always been quiet, pensive, witty, yet a highly capable student," she said. "He demonstrated to me early that he was a student that was going to stand alone and aspire to do great things."
Due to his plethora of academic achievements, many classmates and friends were not surprised to hear of Rivera's acceptance. Rivera has a GPA of 3.97 on the 4.0 scale and a UC GPA of 4.7, demonstrating to colleges that he has the finesse to compete with the most accomplished students across the nation. He also received a SAT score of 2220, earned 4's and 5's on all his AP tests, and participated in diverse background of extracurricular activities, including playing on the varsity tennis team and participating in the community service club KIWINs.
Apart from all his scholastic accomplishments, Rivera said that his thirst for knowledge was the most significant factor in his acceptance into Yale. "I'm really passionate about my education, and Yale is a dream come true for me in terms of what I'll be able to learn, do, and share in the next chapter of my life. I think my motivation for school was a characteristic they admired," he said.
Rivera began his quest for the best academic opportunities by applying and taking part in QuestBridge, an organization for low-income students that gives them unique opportunities to be accepted into America's best universities.
During his time there, Rivera was named a College Prep Scholar, recognizing him as an exceptionally qualified student and enabling him to stand out among the many other talented applicants. "I consider that achievement a launching pad into my later acceptance, because from that point on, the program taught me valuable information about financial aid, the college application process, and finally the National College Match Scholarship," said Rivera.
The National College Match Scholarship is a program that helps low-income students obtain a full four year scholarship to America's selective colleges.
With the organization's help, Rivera was able to land an interview at Yale University. "Yale asked to interview me after I had submitted the Common Application," said Rivera. "Although it was one of the most nervous moments of my life, my interviewer and I had a great conversation in which I learned a lot about Yale, and the admissions office learned plenty about me."
Rivera will begin a new chapter of his life on August 22, 2015 with his first orientation at Yale University."The fact that I matched with Yale […] has given me a sense of destiny that my family and I are very excited about," he said.
Leave a Comment
About the Contributor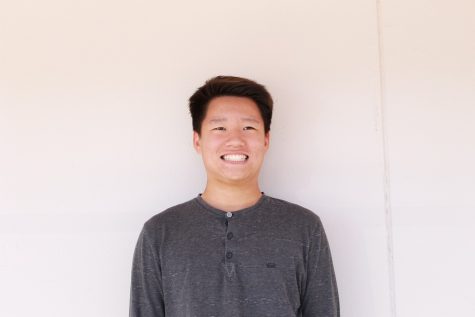 Paul Chun, Staff Writer
Hi, the name's Paul Chun. I'm a sophomore here at Cam High. I like to play tennis on my free time and enjoy my time reading about different articles on...