Plotting to Save the Planet
Cam High's Naturally Green will be constructing an indigenous plant garden to be located in front of Cam High's main office. The garden will be fully grown by the 2018-2019 school year.
Xavier Barneclo, junior and current vice president of Naturally Green, begun the process of designing a garden last year with the help of the U.S. Fish and Wildlife Service, the Oxnard Union High School District's Farm to Table Program, and members of Naturally Green, such as Jon Puno, junior, and co-presidents Luke VanKeersbilck and Sean McCarthy, seniors.
The idea stemmed from one of the club's preceding tasks. The goal of the previous project: reduce water usage through rain barrels (connected to drainage systems) that water surrounding plant life.
An experimental barrel was set up between the H and N buildings last school year and had been wildly successful, prompting the club to establish more barrels around campus. However, the empty grass plots, where the barrels were set up, inspired Barneclo to create something alluring in their place.
Ms. Tawney Safran, who has been the adviser of Naturally Green for almost 12 years, encourages students to work together to accomplish their tasks. "It's so wonderful [and] so beautiful to watch these projects take off once the student feels like he or she has the support and they know the rules. That's really what an adviser should be doing, advising, mentoring, and assisting," replied Ms. Safran about how independent club members are.
Naturally Green predicts that the garden will raise school pride whilst lowering Cam High's negative impact on the planet. "[The] native plant garden [will] look beautiful, and contribute to reducing the amount of water we use. Since grass lawns use an exorbitant amount of water for every square foot, this will significantly reduce the among of water we use by 100 gallons to almost none," said Barneclo.
"Students will finally have a place that actually looks beautiful [in terms of nature, since the garden] will be teeming with natural plant life," said Puno, who has assisted in fundraising and budgeting for the garden. "To the students, it's also a place for relaxation, so people don't just have to stay in cluttered classrooms."
The garden will contain benches or a picnic table for students to use during lunch or nutrition breaks. The club is also planting Yarrow, California Fuschia, Monardella, Pink-flowering Current, and Toyon to attract Monarch butterflies (native to California), clearwing hummingbird moths, California bees, and other beautiful wildlife. Naturally Green is creating environmentally friendly surroundings while beautifying Cam High's campus.
"Native habitats provide food and shelter for many animals. Many native animals require native plants to survive. Once the plants are established they only require rain to thrive. [The indigenous plants] clean the air we breathe [and] do not require fertilizers or pesticides," said Michael Glenn, biologist and member of the Student Habitat Program, one of the organizations assisting Naturally Green members plan the garden.
At a future date, Barneclo and Puno hope to construct another garden by the H building and include sculptures made by Cam High's AP Art students. Funding, donations, and long hours of work have given this project a chance to grow roots, and on Nov. 18 and 19, volunteers will mulch the soil in order to begin planting in Dec. 2017.
View Comments (1)
About the Contributor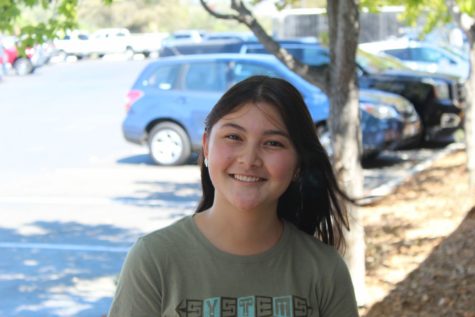 Marcella Barneclo, Editor in Chief
Hello, my name is Marcella and I am a senior here at Cam High. As this year's Editor in Chief of the Stinger, I'd like to welcome you to our site. I'm...