Heading for Home as Champions
To the victors belong the spoils and Cam High's varsity softball is now sitting atop the spoils as the team won the CIF-SS (California Interscholastic Federation-Southern Section) Division 2 Championship on Saturday, June 3 when they defeated Riverside Poly by the score of 4-0.
With the win, the team not only brought home the first CIF softball title since 2011 but also won the CIF Division 2 State title by defeating Riverside Poly. Since there is no State Division tournament for softball, being the CIF-SS Division Champion is considered as the State Division Champion as well. With the win on Saturday, Cam High finished first place in the CIF Division 2 rankings and was crowned the State champions.
"It was exciting because it was my freshman year. To go out with a bang. I think we deserved it, we worked hard for it," said freshman pitcher Eryka Gonzales. "That moment was just so exciting and you just want to soak it all in. Everything was happening so quickly and you just wanted to take your time. It was just so crazy to think about it." Gonzales only allowed two hits the entire game and retired 20 hitters from the last 21 at-bats.
The Lady Scorpions finished their season with a 27-3 record and also grabbed the Coastal Canyon League title along the way to the CIF Championship.
"This was my first year on varsity and I know that when I started out, my only goal was to win. I didn't care about anything else but to win. First was the league and second was winning CIF. It's every softball player's dream," said junior third baseman Rachel Hurtado. "Especially since we're in a good division. It's like where every softball player wants to be and for us to experience it makes it so much sweeter."
Cam High's success this season was a surprise to some of the players. "At the beginning of the season, I probably wouldn't think we would have won CIF. I know this team has just a hard work ethic that I think that even when we were in doubt sometimes, we kept pushing through and always somehow pulled out a win," Gonzales said.
The team has prepared for everything they needed to compete for the title. "We practiced what we needed most work on. I had to work in the bullpen, training up as possible. We definitely worked hard and I think we were well prepared for CIF," said Gonzales.
"Our coaches say, 'Nothing changes," because everything we've been doing is working and we've been winning. So we wanted nothing to change. We kept coming out here and working hard," Hurtado said.
This was Cam High's fourth time in the CIF Championship game and third time winning the title. The team last won the title in 2011 and won a title in 1991 before that.
The team is cautiously optimistic about their chances to compete next year. "Another title would be nice but I know how hard it is going to be because of this year. We'll just take it game by game," said Gonzales.
For now, though, she is just happy about the way this season has gone for them. "I don't think this season could have gotten any better except for the three losses of course. The determination, the will to come back from being down. It shows that we have a lot of heart. We have good chemistry," said Hurtado.
"Coaching these players has been a great experience, not just because we won CIF, but they are such a hard working team to be around.  They had some huge come from behind wins this season, which shows their ability to fight back and never give up.  We won the Hart tournament at the beginning of the season, we won the Coastal Canyon League, and now CIF to top it all off. It's been a great journey with these girls," said head coach Nichole Pinedo.
Leave a Comment
About the Writer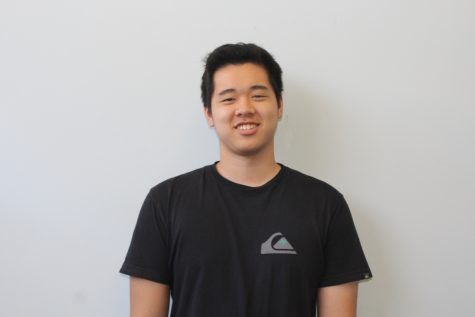 Tony Thai, Sports Editor
Hello. My name is Tony Thai. I am a senior here at Cam High and this is my second year writing for the Stinger. On most days, I like to run away from my...