Below Par, Above Everyone Else
A shot for the record books. A single stroke that etched this year's varsity boys golf team into history forever. Cam High's varsity boys golf team won the California Interscholastic Federation (CIF) Central Coast Division title for the first time in Cam High's history on Monday, May 19.
"It was the first ever golf won CIF in school history. It was all a huge moment for every single one of us. Every time you win something, it's the best feeling in the world," said senior golfer Michael Sun. "We were surprised that we won because we were expecting to be the number two team going in. We worked as a team because we're like a family in a way so we trusted each other and we have that brotherly love bond. It just really helped us. We had confidence in each other."
"I was really excited about winning the title because it was something I have dreamed of and something that our team worked hard for. The fact that we are the first team for Cam to win it makes it that much better. It really feels like we accomplished something," said junior golfer Dan Orosco.
The tournament, held at the River Course at the Alisal in Solvang, consisted of 18 schools from the Central Coast Division. Cam High finished with a total score of 393. Runner-up Arcadia High finished one stroke behind of the Scorpions with a score of 394. "It seemed like a tight competition and we felt like we were six strokes behind the first place team. However, our sixth man, [senior] Gino Aparicio, came in clutch with a sweet 77 to tie Joey Zambri and I," said Sun. "That was a huge moment for us.  We were celebrating the entire way. Our hard work for the past four years has led us to achieve what we wanted."
There is a total of 11 golfers on the team, but only six play the most in competitions. Those six golfers are seniors Michael Sun and Gino Aparicio, juniors Jake Yasutake, Dan Orosco, Terrell Chriss, and freshman Joey Zambri. The golfers practiced every day to help them compete for the title. "We practice and play every day. We use Las Posas, Spanish Hills, and Camarillo Springs [golf courses]. We get range balls, practice chipping and putting, and then we had nine-hole practices. That's how we got ready. Plus, a lot of the boys play outside tournaments," said head coach Mr. Bill Dowden.
"My coaches let me play with the other golfers on lower varsity and JV. Those guys help me improve as a friend and as a golfer. It's a lot of talking and [believing] that everyone has the potential to be as good as the next guy. It's hard work, dedication, and believing that you can do it," Sun said.
Prior to the CIF championship, the team won the Coastal Canyon League Championship after going undefeated in league play. Sun, Chriss, and Zambri qualified for the CIF Individual Golf Playoffs and played on Monday, May 8 at the Skylinks Golf Course in Long Beach.
"Overall, the team had an incredible season, we went undefeated through the CIF round and we had a great time doing it. The season went even better than I could have planned. We started off doing alright and we progressively got better, making our impressive season even more exciting," Orosco said.
"It's been fantastic. They were nice kids. Very enjoyable and coachable, always on time. I describe as like, 'It was a good season that turned into a very good season that turned into an excellent season because we won CIF.' They go out and play for five to six hours, you add it all up for 18 teams and they won by one shot," said Dowden.
Cam High qualified for the CIF State tournament with their first place finish and competed on Thursday, May 18 at Rancho San Marcos Gulf Club in Santa Barbara. "We finished in about the middle of the pack, but we did have an individual player, freshman Joey Zambri, advance to the State qualifiers," said Dowden. Zambri competed in the CIF So Cal Regional Boys Golf Championship on May 25 at the Brookside Golf Club in Pasadena, but he did not move on.
The seniors hope to leave a legacy of hard work and dedication in their wake. "I had one goal in mind when I started the season: lead the team into CIF. I didn't expect to win CIF, but I know that we could have won last year if I had stepped up as a team captain and as a fellow golfer. I knew that this year I wasn't going to make the same mistake, so I promised myself and my teammates that I'm going to try my best and my hardest to encourage everyone to step up their game and do their best," said Sun.
The team has their eyes set on competing again next season with four out the top six golfers returning. "The future is bright because four out of six golfers are returning. We hope that some of the younger players improve a lot over the summer and fall. We will have to replace Michael Sun and Gino Aparicio," Dowden said.
"My personal goals for next year are to have more rounds in the 70s and make it into individual CIF," said Orosco. "My goals for the team next year are for us to win league again and be in the top four at CIF. I think through hard work we can accomplish all of these goals."
Leave a Comment
About the Contributor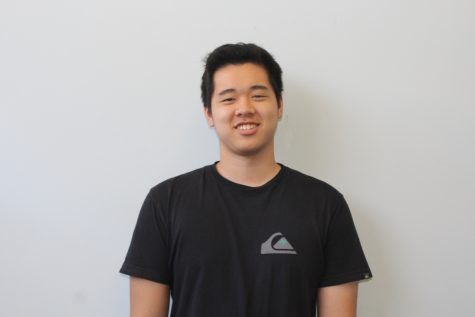 Tony Thai, Sports Editor
Hello. My name is Tony Thai. I am a senior here at Cam High and this is my second year writing for the Stinger. On most days, I like to run away from my...