Shedding a Light On Writing
Cam High held an "Author Talk" in the school library on Apr. 4, featuring author Mr. Philip Brown, who recently released his book Light Runner.
During the event arranged by librarian Ms. Heidi Resnik, Brown, a Camarillo local, spoke to students about his background, his book, and advice for aspiring writers. "[Brown] revived my interest in mystery and thriller novels," said Jaclyn Kim, junior. "The talk was enriching since it provided insight on what influenced [the author] to write, what struggles [the author] encountered, and more importantly, [the author's] personal life and how that contributed to his literary journey of completing the novel."
In order to find authors to speak at Cam High, Resnik typically asks Connie Halpern, owner of the Bookworm, or other librarians at nearby schools. "I learned about Phil Brown through the Teacher Librarian at Hueneme High School, Mr. Joel Graves.  I emailed Mr. Brown, we met in person to discuss the parameters of the talk, set the expectations, and agreed to a day that would work," said Resnik.
While Cam High's Author Talks are fairly new events that began this past school year, this is not the first one that Brown has spoken at. "I enjoy doing author talks because it puts me in touch with readers. I hope that students or anyone who attends a book talk—not just mine—comes away wanting to connect with books," said Brown. "I think that hearing an author might inspire others who want to write. That's what happens to me when I hear other authors, and I hope I can do the same [for others]."
Junior Isabelle Ortiz, one of many students who went and listen to Brown speak in the library, expressed her interest in coming to another talk after experiencing Brown's. "The author talk provided me with a new [book to read] and introduced me to a genre I wouldn't usually read," said Ortiz. "I was able to learn about the creativity that contributes to writing a book."
The event allowed for students to obtain an insight on how he was able to write Light Runner and what inspired him to write his novel. The novel details the plight of Dara Adengard, a 16-year-old whose mother recently passed away and father disappeared, just as she discovered a silver and gold armlet with mysterious powers. From there, she embarks on a quest for her father and her family's hidden truths.
"I wrote this book to show anyone that he or she can be a hero in their own life," said Brown. "As a high school teacher, I'm inspired by students' lives, many of whom struggle to overcome difficult social and personal issues. The classroom feeds my writing because it's a place filled with brilliant and amazing stories […] I've tried to convey that through the character of Dara."
Resnik hinted at the prospect of having more Author Talks in the future. To Resnik, Author Talks are a fun way for local writers to share their stories, and the stories they write, to students on campus. "I would attend another talk [in the future], in order to gain various perspectives from different authors and [learn about] their thought processes as they crafted their novels," Kim said.
"[Students should attend the upcoming talks to] try new things, to appreciate the art and craft of writing and storytelling, to share an experience with fellow [students]," said Resnik. "My hope is to inspire students to read, write, and discover worlds unfamiliar to them—in reality and through stories."
View Comments (1)
About the Writer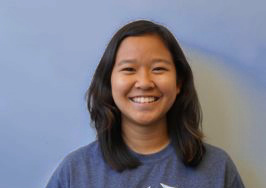 Kaylie Chen, Video Editor
Hello! My name is Kaylie Chen and I'm currently a senior at Cam High. I love reading, listening to music, and watching YouTube videos and shows on Netflix....