Success Means the Same in Any Language
On Thursday, Mar. 30, Spanish, German, French, and Mandarin students seeking the Seal of Biliteracy attended oral interviews―put in place to test their fluency and possibly reward them with the Seal―excusing them from having to earn it through upcoming AP exams in May.
According to the Seal of Biliteracy website, the Seal of Biliteracy is an award given by a school, school district, or state in recognition of students who have studied and attained proficiency in two or more languages by high school graduation. In Cam High's case, OUHSD was responsible for conducting the oral interviews and, if students passed, granting them the seal of biliteracy in the months left before graduation.
"For each person, having the seal means something different," said Anna Soberanis, Spanish 3, 4 AP teacher at Cam High. "For some, it is an added benefit when applying for a job or for admission to a university. For others, it's a tangible achievement after working so hard to learn another language for four years. For some it's both."
The recognition of biliteracy also becomes part of the high school transcript and diploma for these students after they earn it. The Seal serves to certify attainment of biliteracy for the students' future employers and universities, and helps signify a student's readiness for career and college, and for engagement as a global citizen. Currently, 25 states and Washington DC have approved a statewide Seal of Biliteracy.
The organization Californians Together developed the concept of a Seal of Biliteracy in 2008 and worked throughout the state to help school sites, districts and others adopt and implement the Seal. Their goal is to "better educate our almost 1.4 million English learners by improving California's schools and promoting equitable educational policy," according to their website. Over 165 school districts are currently granting the awards, and increasing numbers of state and national professional organizations and other entities have endorsed the Seal.
Seals of Biliteracy are intended for all students who master standard academic English and any other language, including American Sign Language. Assessments, including Advanced Placement Tests (AP) or International Baccalaureate (IB) exams, are available in many languages. Some districts have developed their own assessment process for languages where there are no existing tests and use a common rubric for scoring the tests aligned with World Language Standards.
During the oral interviews, students were asked two "easy" questions and one "hard" question, and had five minutes to give the best answers possible. The students hadn't been given the questions in advance. Students were to blindly select their questions and randomly selected a piece of paper that had the number of the question they were to answer. When asked the questions, the students were expected to be able to understand without clarification.
Students were interviewed before a panel of adults they didn't know, all of whom were native speakers in their target language, according to Mrs. Heidi Kuehn, German teacher and World Languages Department Chair.
According to World Language teacher Mr. Pascual Campos, "This oral component is given throughout the district's schools, comprehensive high schools that is."
If they pass the interview, students are eligible to earn the seal prior to graduating. If they don't pass, they can still earn the seal through passing the AP examination with a score of 3 or higher; however, these students will not know if they received the seal until after they graduate.
This was the first time OUHSD has required an oral interview for the Seal of Biliteracy, and almost 75 students completed the interview process. No teachers were allowed in during the interviews. According to district data, Cam High has been offering the Seal of Biliteracy for about 7 years now.
According to Soberanis, the interviewers used a rubric to score the students' performances. "[The rubric] marked the student's comprehension, response, pronunciation, grammar, among other things. They do not expect the students to speak perfectly. They only expect the students to continue a conversation about a topic. They expect that the student can answer easy conversational questions as well as more in depth questions. They each received three questions: two conversational, and one more in depth."
"I think the process was actually harder than the AP test," said Soberanis. "[Students] had to talk in front of two, sometimes three, people. So not only were they thinking in another language, but they were also trying to control their nerves. During the AP exam, they only have to talk to a recording device. It's difficult, but not as difficult as talking to a panel. That is my opinion of course."
Campos has received his student's scores, but he said that he is unsure when the district office will be sending the scores to students. "I volunteered to be in a committee that oversees the whole aspect of the State Seal of Biliteracy for the district.  I wanted to be involved with the new oral component of the [State Seal of Biliteracy], this is the first year that this oral component was incorporated," said Campos.
"[I don't think there are many] benefits [to these interviews]. In fact, I would be inclined to have this oral component removed from the criteria; the state's guidelines do not require it, it was the district that decided to add it to the application," explained Campos.
Anne Huang, French and Chinese teacher, agrees with Campos that there are many things that need to be improved about the interview process if OUHSD decides to proceed with conducting them from now on. "I think that for next year, there should be a district-wide meeting to discuss the protocol for the interviews, and I also believe that there should be a set panel of interviewers so that there is consistency," she said. This year the interviewers were different from school to school.
"I don't know if I would say that the interview process was really necessary as I believe the Spanish classes prepares students well enough, and for that reason, I would say that the interviews aren't needed," said senior Joseph Cachin.
Huang helped with creating the Mandarin based interview questions and also helped conduct interviews at Hueneme for French. "I believe that these interviews can help us gauge just how far students have come in their four years with a language," said Huang, who would have preferred to use the oral interviews as a way to prepare her students for a future where they may need to use the language.
"As I was being interviewed, I realized that my class had prepared me for it enough," said Cachin who received his letter awarding him with the seal.
"I was totally impressed [with my students]," said Soberanis. "They were poised, professional, and yes a bit nervous. I escorted many of them to their interview sites, and I spoke to many afterwards. Some were disappointed, some relieved, some cheerful. I reminded all of them how far they have come."
"Obtaining my seal of biliteracy held a lot of significance for me," said senior Samantha Paul. "After reaching the AP level following three years of the language, I really wanted to solidify my love for French and Francophone culture by proving I had some sort of mastery on my speaking abilities." Paul found the interview itself intimidating but exciting.
"The seal is not the end all. It is just a marker on the road to being bilingual. Learning a language is a process that should never stop," said Soberanis.
Leave a Comment
About the Writer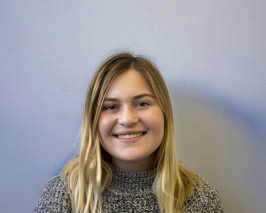 Emma Brock, Managing Editor
Hello! My name is Emma Brock and I'm the 2017-18 Managing Editor of The Stinger. I'm currently 17 years old and a senior here at Cam High. I plan to bring...