Cam High Strikes Gold
[slideshow_deploy id='64222′]
Cam High, one of four qualifying high schools within the county, received the Gold Ribbon Award based on students' CAASP test scores and on specialized programs that the school choose to showcase.
The Gold Ribbon Award honors outstanding schools with exemplary achievements that meet or exceed the state standards. This award takes the place of the California Distinguished Schools Program, awarded by the California State Board of Education, to public schools that showcase the most exemplary and inspiring educational programs, as it is currently on a hiatus while the state transitions to new assessment and accountability systems.
The four schools that qualified in Ventura County are: Cam High in Oxnard Union High School District; Moorpark High in Moorpark Unified School District; Westlake High in Conejo Valley Unified School District; Royal High in Simi Valley Unified School District.
According to librarian Heidi Resnik and principal Dr. Kim Stephenson, Cam High went through a tough and long process for the application and validation of the new award.
The first step was to check if the school qualified for the award based on CAASP scores. Because the school's CAASP test sores were above average among all public high schools in the state, Cam High was able to apply for this award. After qualifying through the CAASP scores, there was an application process in which the school must write about something that differentiates it from the other schools.
"Because the kids did so well on the CAASP test, we were then able to apply for this award. And to apply for this award, it is a very detailed document answering questions, getting data, identifying our program, articulating what we do here so someone reading it can actually get the mental picture of  what we do in service and leadership," said Resnik, who enjoyed the writing portion of the application the best. "It's a challenge. Dr. Stephenson and I spent many hours together getting data and writing this, so it was a several week process, for sure. But then to get the final articulation, we spent like 16 hours one day and 12 hours the next. So we we were here over the weekend doing that. We learned a lot about the school, and it was great."
The California Department of Education (CDE) evaluates the applications and selects certain schools to visit and verify their application. The CDE then takes the exemplary applications from these schools and compiles it to provide for all public school within California so they can work towards developing programs similar to those successful schools.
The school was able to choose any program on the campus and the representatives of Cam High chose to showcase the service, leadership, and co-curricular programs.
According to Stephenson, the Service and Leadership program was highlighted because Cam High students shows exceptional passion in what they love to do without hesitation and without being forced by the school to do so. "[At] some schools, it's required," said Stephenson. "[at Cam High,] lots of kids want to do it."
"It's not really a program, that's what's hard to explain. [Service and leadership] is just sort of the culture here. It's really common practice around here," said Resnik.
After the application was reviewed and approved, Cam High held its validation visit on Friday, Mar. 24, where five people from the county administration came to the library during lunch to view all that Cam High has to offer. About 20 of the 54 clubs on campus were showcased along with various other programs in Cam High including the Agriculture program, Industrial Arts program, ROP classes, and AVID.
At the showcase, the administration conversed with the representatives of the clubs about how they serve the community. The visiting committee verified the application after meeting with staff, students, and constituent groups, as well as having guided tours of classrooms.
"ASB helped by getting things together for the visit, making the school look like it does on one of its more festive days to celebrate them coming, and also [making them aware] of who we are as a school," said ASB director Lori Pristera. "We helped set up the library, ASB was in on the planning stages of the verification process set up. We also helped contact the clubs. Ms. Resnik was a vital force in putting everything together. And then ASB provided the lunch for them and the goodwill and hospitality."
"I'm not so sure if the time frame that they came was enough for them to determine how our worthiness of a gold ribbon, but I think we did what we could in a time frame that we had and I think that we put in a good effort," said Pristera.
"I was so emotional because when you work so hard and I see teachers work, everybody here is so late at night, putting in millions of hours and the kids are putting in millions of hours and the outside comes in and notices and verifies it, it's very rewarding," said Resnik. "It was just really a blessing to work on it and work with the staff and be with the school."
The Gold Ribbon Award schools were announced in April. According to State Superintendent of Public Instruction Tom Torlakson, 275 middle schools and high schools were honored under the Gold Ribbon Schools Awards Program.
Leave a Comment
About the Contributor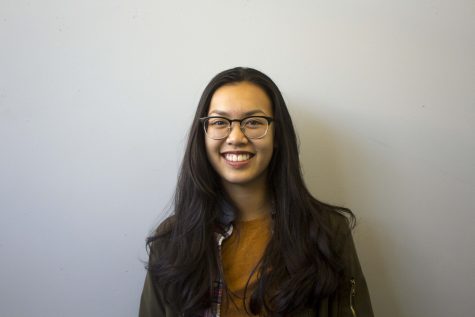 Jacqueline Le, Staff Writer
Hey there! My name is Jacqueline, and I'm a junior at Cam! I love spending my free time playing tennis, traveling, and hanging out with my friends. I'm...