Scorps Spotlight 17: Cameran Bahnsen
Cameran Bahnsen, senior, is making history on and off the court with her academic achievements and basketball records.
This semester, varsity basketball coach Mike Prewitt paid a visit to the Bahnsens' house and informed Cameron and her parents that she had been awarded the John R. Wooden Player of the Year Award for CIF Southern Section Division II. Bahnsen and eight other high school female players, along with eight male high school players, were presented with their awards on Apr. 7, 2017  in conjunction with the ESPN College Basketball Awards, held at The Novo by Microsoft at LA Live, according to the John Wooden Award website.
"It feels really exciting winning the award, because I didn't really know it was a thing. It was very surprising [and made me] feel very accomplished. I think it's a great way to end my High School career, so I'm excited," said Bahnsen.
This year marks the 41st anniversary of the Wooden Award, and the high school winners were honored along with the men's and women's Wooden All American teams and the Legends of Coaching honoree, Muffet McGraw of the University of Notre Dame, according to the website.
Bahnsen is one out of nine of the first high school females who won the John R. Wooden Award this year. The Wooden Award organization started honoring professional and college level male basketball players in 1977 and  high school male basketball players in 1994.
The Wooden Award was founded in 1976, named in honor of Coach John Wooden, the 1932 national collegiate basketball player of the year from Purdue University. Wooden taught and coached men's basketball at Indiana State and later had a successful run at UCLA. Wooden, whose teams at UCLA won 10 National Collegiate Athletic Association (NCAA) championships, was the first man to be inducted into the Naismith Memorial Basketball Hall of Fame as a player and coach.  The award was extended into women's, college and professional, basketball starting in 2004.
The Player of the Year award recipients and the All American Team members are chosen each year by a hand-selected panel of voters. Voters are college basketball experts selected to collectively represent each of the 50 states, according to the John Wooden Award website. The John Wooden board picks one person, either male or female, from each division that they feel deserves the award for outstanding performance on the court.
Players are then informed of their win and asked to attend the award ceremony. Each player receives a plaque and a check is given to their school's athletic fund. Some qualifications for being a candidate to win the award include: being a full time student making progress toward graduation, upholding a cumulative 2.0 grade point average, exhibiting strength of character both on and off the court, excelling in both offense and defense on the court, and more.
Past winners of the Wooden Award include Michael Jordan in 1984, Kevin Durant in 2007, and Frank Kaminsky in 2015.
"I think that Cameran winning is such an honor for her, her family and all her teammates," said assistant varsity basketball coach Cecilia Weight. "She has had some amazing girls that she has played basketball with throughout the years and I know that the group of kids she has played with have definitely contributed to pushing her and helping her to be successful in this achievement."
"It was great to see all her hard work being recognized," said Marissa Hiji, junior on the girls varsity basketball team. "She was the most deserving person for the award. She was also able to lead the team through a successful season, [which] all around [provided her with] all the qualities a person should have to win the award."
Bahnsen is the first female player from Cam High to win the award and the only one on her team this year. In conjunction with winning the Wooden Award, Bahnsen was recently accepted into UCLA.
"It's really exciting and surprising [being accepted into UCLA] because I didn't think I would get in," she said. "I looked at my classmates and it feels good to know that I accomplished the same thing as them, because they're amazing, intelligent people and it is [incredible] to think that the same school would accept us."
She does not plan on extending her basketball career past the college level and is not sure if she will even play in college, specifically UCLA, because of the college-level intensity of the sport. "I am keeping my options open and I'm going to go to the school I feel is best for me, whether I play basketball or not," said Bahnsen. So far, UCLA is her top choice.
Bahnsen started playing basketball around the age of six or seven. Since then, she has gotten increasingly better and has developed a strong relationship with the game.
She started playing basketball for Cam High during her freshman year when she tried out and was accepted onto the varsity team. Since then, she has developed her spot on the team as senior forward.
"Cameran has been such an important part of our whole program since she was a freshman. Since she was in middle school, she has always had this drive to want to be successful in everything she does. Because of her desire to want to be great, she also has a strong desire for others to be just as successful. I think that attitude really played into our success throughout this year and past years," said Weight. 
"I think [playing basketball] showed colleges that I worked really hard to get where I am. I worked really, really hard to get [to this point] and to get as good as I am, and I think that really showed the colleges that I'm determined and a hard-worker," Bahnsen said. "I wouldn't be where I am without my coaches or my team, so I thank them for that. All my accomplishments are because of them and I'm really grateful."
Bahnsen aso participated in many volunteering activities in her past four years of high school, such as helping at basketball camps over the summer, being involved in Project Understanding, where she helps with the homeless, tutoring other students, and donating her time at Pow Wows, North American Indian ceremonies involving feasting, singing, and dancing, discovered through her Native American heritage.
Bahnsen is currently Vice President of the California Scholarship Federation (CSF) club here on campus and is a participant in National Honors Society (NHS). "It was really hard [balancing basketball and schoolwork], [there were] a lot of sleepless nights and stress, but I think I really just had to manage my time [efficiently] and prioritize certain things over others," Bahnsen said.
"I think it's super cool to have a teammate earn such a big award. Cameran is an amazing player, and works really hard at achieving her goals. She's great at her position, and she's also a great example of a student athlete," said Madi Weight, junior on girls varsity basketball. "Cameran has been a great player throughout the season, [so] I'm happy that [John Wooden Board] was able to notice Cameran and how good she does on the court."
"It's always hard to see your senior kids graduate. This class [of  2017] is very special," said Coach Weight. "Cameran is probably one of the funniest individuals I know, so having a player that works hard in the classroom and on the court, is funny, and is easy to talk to, makes coaching fun.  You enjoy the relationship that has been built and will last forever. And when you have all those components, that makes you want to keep coaching. But this senior class, all of them brought that to our team this year. I will remember Cameran by her determination and hard-work; she had some definite goals this last year and she exceeded them."
Update: Cameran Bahnsen recently announced that she will be attending and playing basketball for Cal Poly Pomona in the fall of 2017.
Leave a Comment
About the Contributor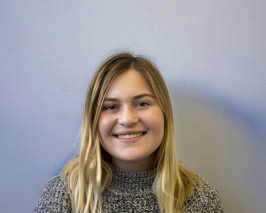 Emma Brock, Managing Editor
Hello! My name is Emma Brock and I'm the 2017-18 Managing Editor of The Stinger. I'm currently 17 years old and a senior here at Cam High. I plan to bring...